Recently I visited the Bailey Australia factory in Melbourne. WOW, what an impressive factory, organisation, team of people and commitment to building quality.
The head engineer and brains behind the quality, technology and build construction spent his career building and designing caravans in the UK. While his claim to fame is meeting the Queen at the Bailey UK caravan factory in Bristol, it really should be his wealth of knowledge and technical know how.
He is supported by a "next level" passionate management team who are hands-on when it comes to the design, the construction, the factory floor, even taking potential customers on a factory tour. Of course, why wouldn't they be passionate their caravans are pretty cool!
Visiting the factory helped me see why Bailey Australia caravans are part of our TrailLite range. I know Pete, Adam and Shaun (TrailLites owners and managers) don't take introducing a new product to the line quickly and are careful to scrutinise whether the product fits with our TrailLite ethos, values and most importantly the way kiwis use caravans.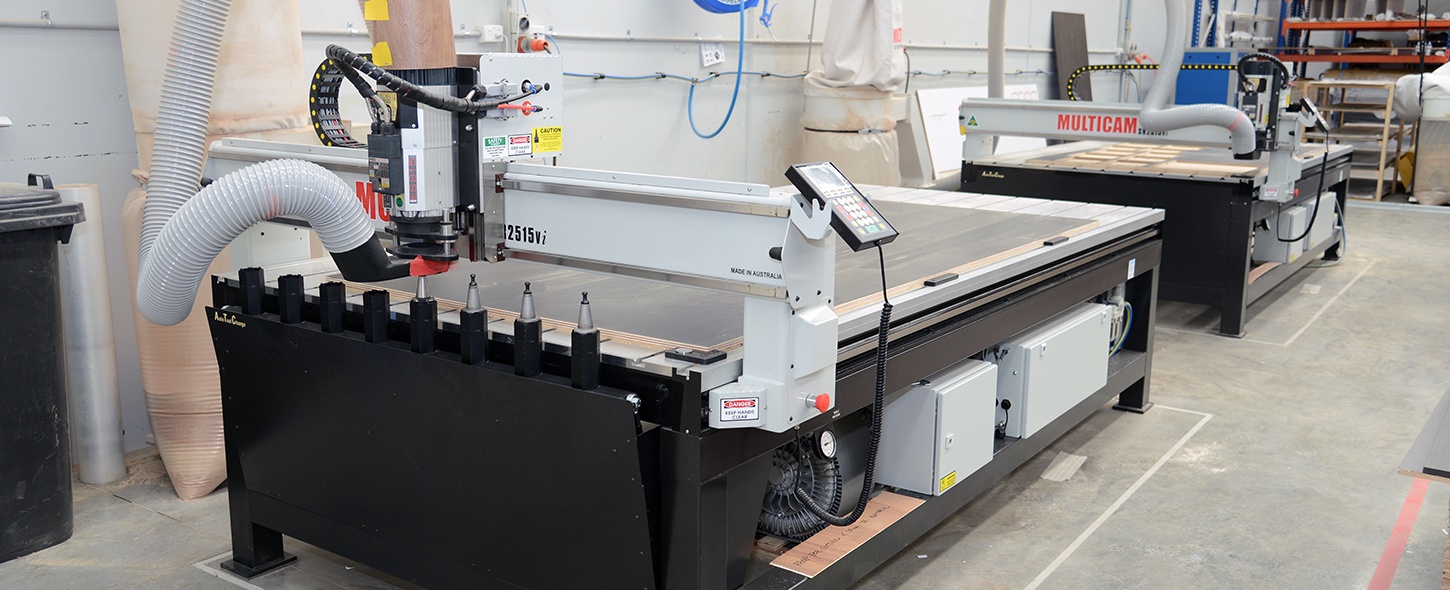 All the information about these great caravans can be found in the Bailey Australia Caravan brochure.
So what did I discover? And how can I make such a lavish claim about them being the best brand in the country? Easy here is the top 5 of the many many reasons...
The Insulation
The Bailey Australia caravans are built with a patented five-part fully bonded exterior panel assembly system. Meaning that the caravans are built with a one-piece roof, floor and walls that are clamped together with no external fittings. Making them lighter, sturdier and have less chance of water ingress. Hence why there is a 10-year water ingress warranty - complete peace of mind there!
The construction system also offers Grade 3 Thermal Insulation, providing all year round touring from a New Zealand summer to a New Zealand winter - you'll be no problems in one of these caravans.
The classification is achieved by undergoing rigorous testing inside Trumas state of the art cold chamber facility in Derby. The vehicles are subjected to extreme temperatures of -15 degrees and must reach a minimum temperature of +20 degrees inside within 4 hours. Even on the coldest NZ South Island evening, you'll stay toasty warm with a caravan insulated like this! (Obviously, a heating system would be a must).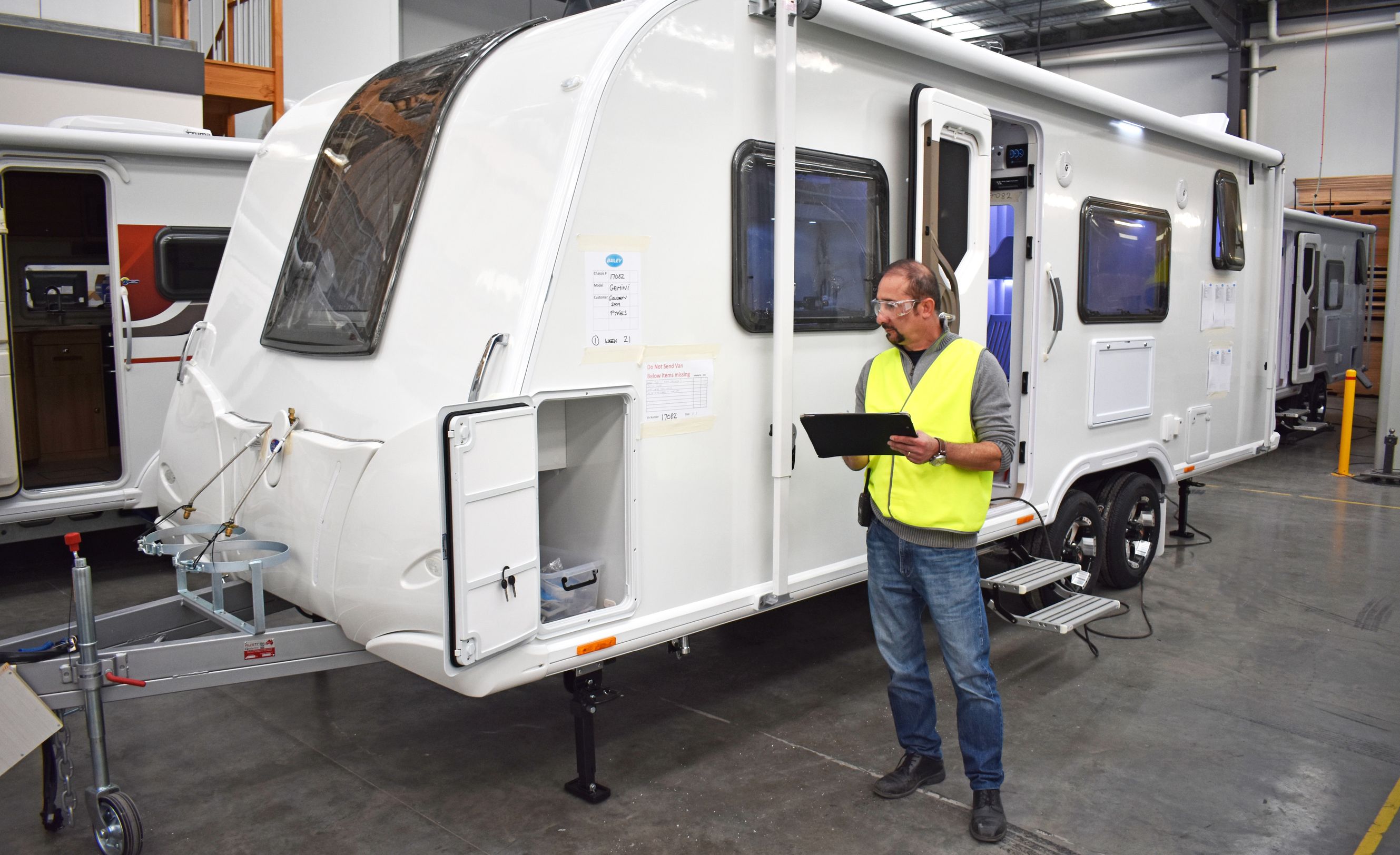 This one-piece flooring system and insulation rating is a massive point of difference compared to other Australian manufacturers and really sets the product apart from any of its competitors especially when considering New Zealand conditions. Quality construction is hugely important when it comes to life on the road!
It's easy to purchase based on price but will it last the distance? I liken it to shopping for clothes. I'll buy two t-shirts from the Warehouse to every one that I purchase from Country Road. My Country Road t-shirts will last me years, give me lots of use and no hassle while my two tops from the Warehouse will provide me with fewer wears, fade quicker and not make the end of the season. Which do you think is actually better value for money?
Lightweight
You may have heard or seen this referenced before but it really is a big deal. Bailey Australia caravans can be up to 500kg lighter than any other comparable model. If you're thinking "so what" read on and you'll hopefully better understand precisely what this means for NZ!
Standard family SUV will tow even the biggest of the range. The tow weight requirement varies but its around 2500kg-2600kg (for the biggest caravan in the range). Hopefully meaning your existing SUV will tow it and you won't need to upgrade!
Fuel efficiency - the fact the caravan is lighter to tow means better fuel efficiency on your tow vehicle an important point when you consider the rising cost of fuel. Not having to fuel up as often when you're out exploring will make a massive difference to your annual costs!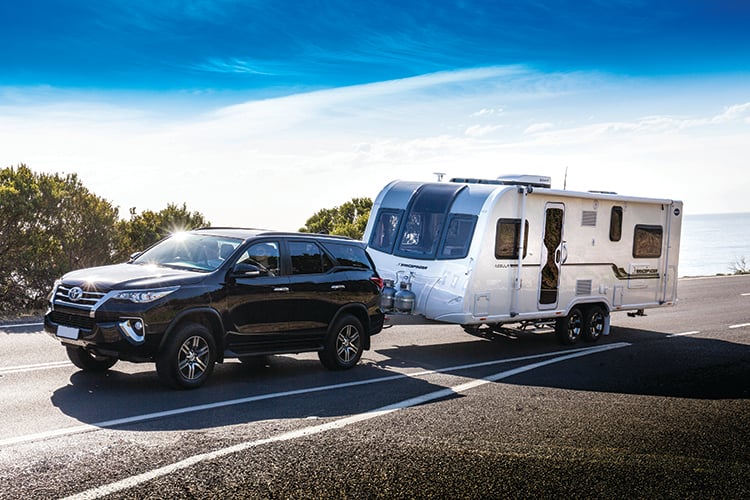 Warranty
The alu-tech construction method mentioned above makes the Bailey Australia caravans the most robust and most durable caravans on the market. The great thing about this for you is each caravan comes with a 10-year warranty against water ingress on the body and a 3-year standard warranty on the caravan. That is just another thing they lead the market on!
Safety
The caravans undergo unbeatable testing which includes accelerated life testing (100,000kms), cross-country voyages and testing on all different road surfaces. This testing has helped develop the custom built steel chassis, the suspension set up and the anti-sway systems. Each quality or endurance test puts the vehicle under heavy scrutiny and identifies where improvements were to be made.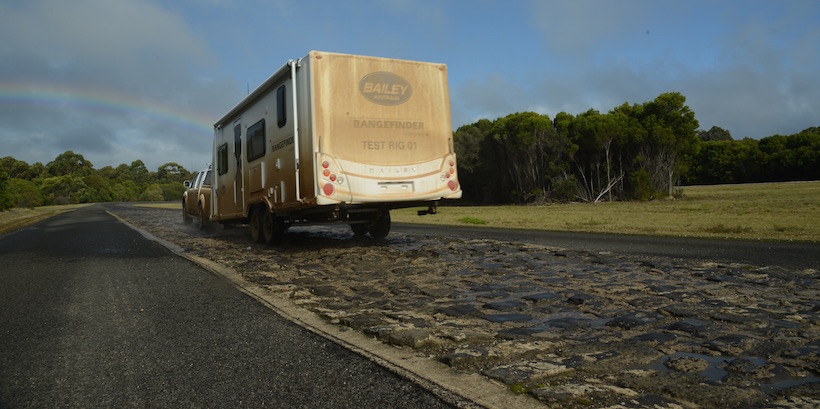 Self-containment
TrailLite has teamed up with Bailey Australia to deliver an even higher level of self-contained camping freedom. It's a vital part of the way we caravan in New Zealand, and you need to make sure your caravan has the flexibility to enjoy campgrounds as well as self-contained camping!
So what do you need for self-contained camping? And why is the Bailey Australia range best for this?
On average a couple uses 50L of water per day, so the standard specification in most comparable caravans just isn't going to give you many (if any) days away from a town or campground. Some don't even come standard with a grey water tank (meaning you can't self-contain camp at all). In Australia, both tanks are fitted as freshwater tanks because holding onto your greywater isn't a requirement like it is in New Zealand. So while most other models may have two tanks (80L per tank), both are allocated to fresh water. In the Bailey Australia Range, the team set up one of the standard 110L water tanks for fresh water and the other standard 110L water tank for grey water. TrailLite upgrades the Bailey Australia caravans at our branches to be fitted with the 140L tanks option (giving you even more specification).
Getting into some of the DOC campsites or locations you'll like want to stay sometimes requires some tricky navigation with a caravan with high ground clearance you won't need to worry as much about anything bumping or grinding on the ground.
Solar and battery capacity
The Bailey Australia range comes standard with a 150w solar panel and 100 amp/hr battery. Our TrailLite spec'd ones have an additional 100 amp/hr battery. Meaning you can store even more energy! Keep in mind it's not just about having larger and larger solar capacity if you don't have the batteries to store it all!
Separate toilet and shower
A comfortable, spacious and functional bathroom is crucial. When you're parked up somewhere beautiful but have nowhere to go, you could be in trouble. And with the large water capacity onboard, you'll be allowed the luxury of a 'quick camping' shower but in the privacy of your caravan.
Two gas bottles as standard are crucial for fueling the BBQ, and the kitchen cooktop and that amount of storage will keep you going for longer than your water! You won't starve in a Bailey Australia Caravan. Especially not with the full sized fridge full of food. Or the freezer for freezing the fresh fish you caught!
This is just a few key specifications, but there is lots more if you want to find out more download the Bailey Australia product brochure.
These are just a few of the great things I discovered about the product in my recent visit, and it made me super enthusiastic about the product and what it can offer for Kiwis looking to create their dream lifestyle in a caravan!