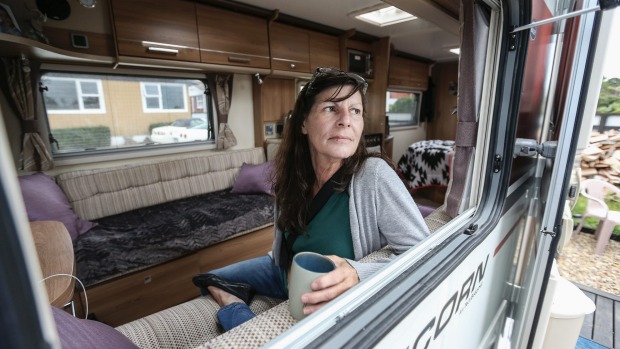 As Auckland house prices were on the rise one TrailLite customer and now Bailey caravan owner Rosemary Holmes, sold up her residential property and brought a home of a different style without needing to compromise on comfort, location or luxury.
Now Rose is a permanent camper in her son's front yard. Keen to find out if a caravan is for you?
When the upkeep on her family home got too much for her just over a year ago, the 64-year-old sold up and bought a caravan.
Selling her home of 16 years, which was in a trust, freed up money so she could help her six kids with their own homes and families and relieved her of the ongoing financial burden of home ownership.
"With the cost of owning, operating and maintaining a house so high I could no longer afford the increasing costs required to upkeep and fix up my large family home" says Rosemary Holmes.
The property market had risen which meant I got good money for my house but it wasn't easy to replace within my budget so everything about caravan living made sense.
"It takes a lot less money to operate the caravan, it is easy to clean and maintain and allows me more free time to go out if I want," explains Rose.
Holmes paid a few hundred dollars for an electrician to install a connection to her son's house. The water tank is filled by hose once every week or 10 days. Holmes uses the toilet in Morris' house, because she doesn't like having to empty the tank, but otherwise lives independently. She says she has been told she could install a separate septic tank if she chose to.
Holmes says she has heard of people who choose to live in a camper on their own property and rent out their home as income.
To learn more about Rose and here story click here
Rose certainly isn't the only person choosing to use a caravan or a motorhome as their home as it gives amazing flexibility for different life situations. TrailLite's very own Sales Manager, Mandy Davies lived full time in a caravan while her brand new house in Kawakawa Bay was built.
Mandy often shares her stories of living full time in a caravan and says it provided her, her partner Greg and their cat the perfect temporary living arrangement. The outlay isn't too expensive and can be better than renting a house short term.
If a caravan is something you are keen on - keep in mind that if it's suitable for permanent full time living it's probably going to have some great benefits for you whatever your situation!
Rose is in a Bailey Unicorn Caravan backed by TrailLite which cost around $65,000 and TrailLite can help identify the right caravan for your unique situation.
Find out more about the caravan Rose is living in now by downloading the Bailey Uk brochure and pricing specification sheet.