Thinking of heading South for the Summer? Or are you one of our South Islanders keen to explore the North Island? In light of your upcoming summer journeys we've gone on a roadie and crossed the passage between the North and the South and prepared some information with everything you need to know about taking the journey between the two islands with your motorhome or caravan.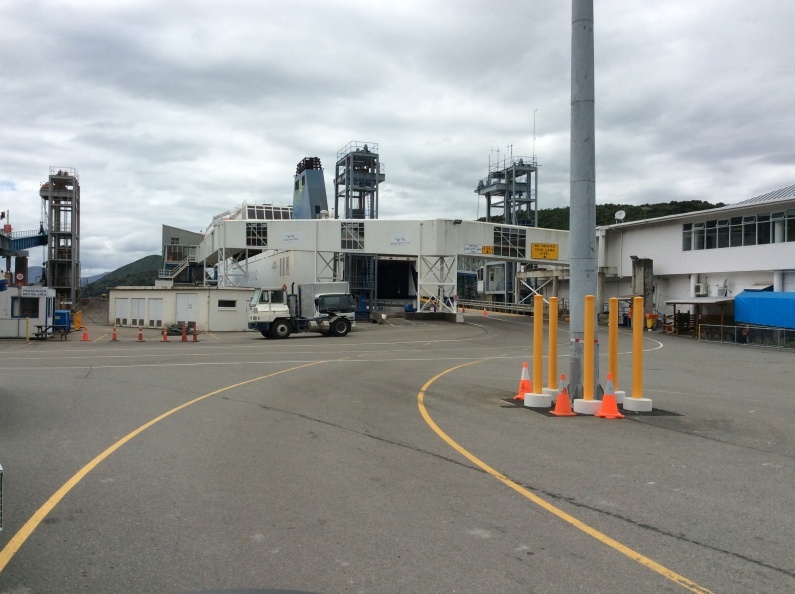 For many taking the trip is as easy as driving our great kiwi roads but for others or those new to motorhoming taking the crossing can be a little unnerving. Where does the motorhome or caravan go? What time do we board? Whereabouts in Picton or Wellington do you go? Well this blog will help answer all of your New Zealand Ferry Crossing questions!
If you are interested in learning more about motorhoming download our free beginners guide to motorhoming.
The process goes a little something like this (I crossed from South Island to North Island on the Interislander on Sunday 4th December). When arriving in Picton the signage on where to go is surprisingly very good, so good in fact that it's easy to arrive, end up at the front of the line and with plenty of time to spare. Its a good idea to full up with gas before you start following all the signage because before you know it you are quite literally pulling into the ticket booth and turning around could prove difficult (Picton entry to the ferry). Be prepared to receive limited information from the ticket booth operator and head in to the line up with your boarding pass (which you will need later so don't loose it).
Here you wait but be prepared to start the boarding process a full hour and fifteen minutes before the departure time. You are free to go for a walk, grab a coffee or simply wait in the comforts of your motorhome or caravan. Its a good idea while you are waiting to check your gas bottles are off and secured tightly.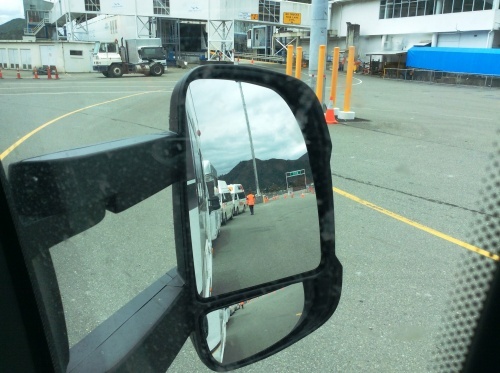 The start of the boarding process commenced a full 75 minutes prior to the departure and went like this:
Move forward into shorter lines - be sure to follow the person in front perfectly and if you end up being the person don't go too far forward - err on the side of caution - you will be asked to pull around to the back of the line if you park too far forward or are in the wrong place by a arm flapping high vis vest wearing traffic manager!

Turn your engine off here you'll be waiting approximately 15-20minutes (It took me a while to figure this out - a few smiling faces looked my way once I finally switched off the engine).

Next step is driving up, handing over your boarding pass and entering the ship - either up a ramp or straight on.

It is a bit of a tight squeeze driving into your parking spot so just watch your side mirrors or if you can just pull one of them in for some extra space.

Park in your spot make sure you leave your transmission in park or in gear (AMT Transmission), pull your handbrake on tight, check your alarm is off and you motorhome is locked up.

Grab anything you need and head up to the lounges - be sure to try and secure a good seat with a view.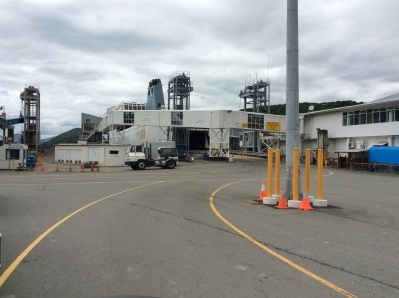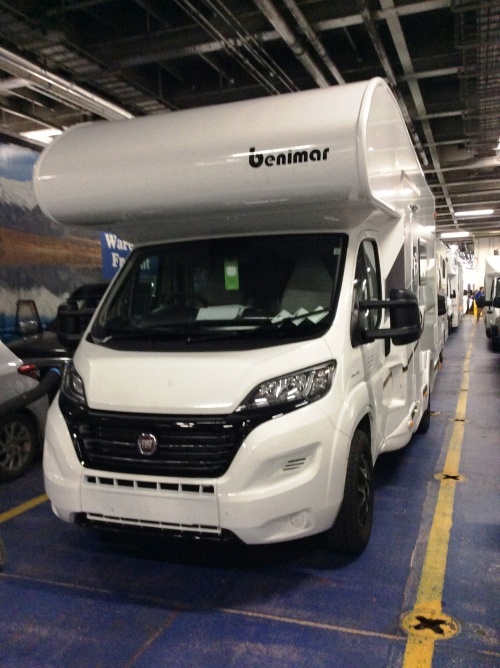 Hoping off on the other side is a breeze - they will announce over the speakers when you are allowed to head to your vehicle from then it is about 15minutes before they commence unloading. Its a quick process and you are on the road again in no time at all!
While these may seem obvious here are a few points that seem to be 'unwritten' rules you might not be aware of:
Follow the line with the other motorhomes. Cars follow cars motorhomes follow motorhomes

Remember the level you parked on when you entered - the sign of the floor level isn't immediately obvious (I ended up getting it wrong as did a few others trying to find where they had parked their car!)

You're not allowed to stay in the motorhome/caravan or car

The whole process takes about 5 hours from start to finish
If you are interested in trying the Bluebridge Ferry find our
more information here
- just a note that the Interislander claimed to be the only ferry that allowed drive in drive out without needing to back your vehicle (Why I choose the Interislander)
.
These observations were prepared while taking the crossing from Picton to Wellington on the InterIslander.