TrailLite and Breakfast are on a motorhome tour of epic proportions this week exploring some of the best locations in the South Island of New Zealand. Bringing the joy the motorhome lifestyle can bring, to thousands of Kiwis tuning in each morning to hear the weather from a different gorgeous road trip destination.
Our first destination was supposed to be Kaiteriteri just 13kms from Moteuka. Known for it's golden sandy beaches. It also forms as the gateway to the world-renowned Abel Tasman National Park.
Unfortunately the weather had different plans for us. TrailLite owners Raewyn and Rob Kirkwood were in Kaiterteri waiting to show Matty the motorhoming ropes. The film crew safely arrived in Nelson only 10 minutes delayed and Matty's TrailLite Oakura 554 plus one Benimar 264 was delivered to the Honest Lawyer Pub and planned meeting point. However.... no sign of the weather man. Had he gotten cold feet? and decided against the motorhoming lifestyle before he'd even began?
Of course not! The motorhoming mode of transport didn't fail instead it was the flying mode of transport that failed and our weather man ended not in Nelson but in Wellington. He arrived eventually to start his trip although a whole day delayed!
So was the weather really that bad? and how was our trip from North to South? One word for it well actually two...
Picturesque and wet.
For some more road trip ideas download our great kiwi road trips guide
Leaving Auckland on Friday was amoung pouring rain that just didn't let up until today (Monday 12th Feb). We stayed overnight at Waiouru Army Museum for a pleasant self-contained camping experience and headed off to Hunterville for breakfast in the van. Catching up with a TrailLite owner who was out walking his dog and more than happy to share his experience building a TrailLite in 2002 at our old Buckland factory... reminiscing about Pete, Mandy and John's attention to detail in building his dream motorhome.
We crossed the stretch between the North and South on Saturday traveling on the Bluebridge Cooks Straight Ferry. It was delayed, smaller than the Interislander, very foggy but calm. We arrived at about 5.00pm and stayed the night in the beautiful Waikawa Bay. Picton really deserves more time on a motorhomers agenda and would be well worth a 5 day or more trip.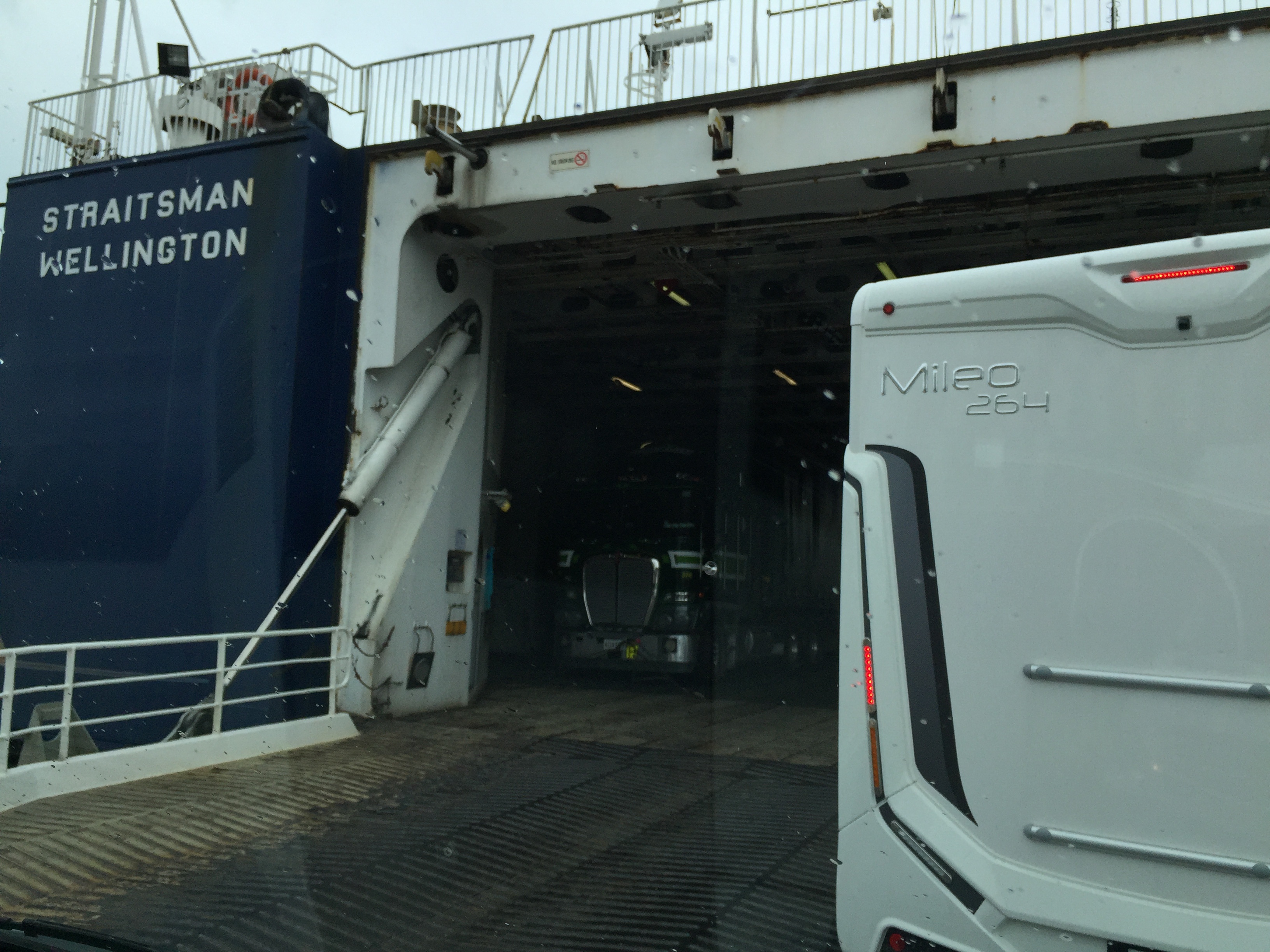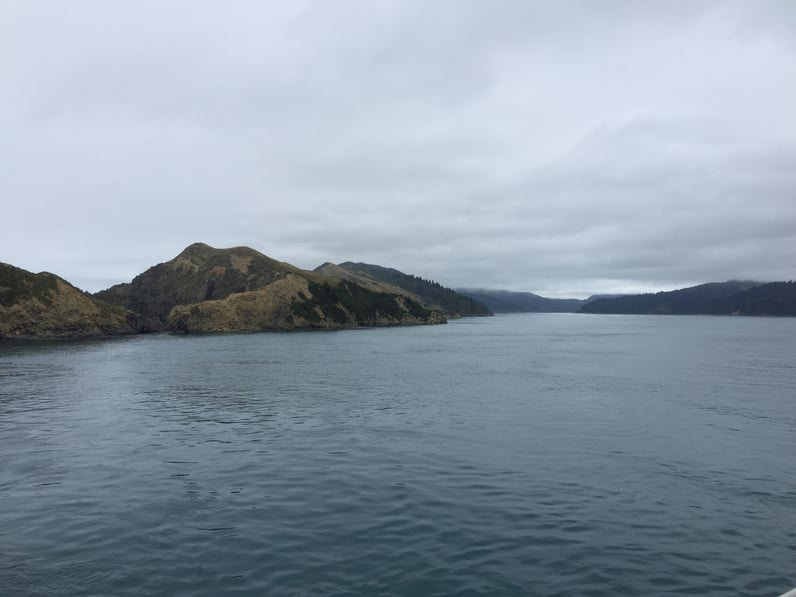 We traveled the approximately 2 hours from Picton to Nelson on Sunday morning in heavy heavy rain. On a fine day the Queen Charlotte Road would be a great and scenic option to travel from Picton to Havelock. The main road is still a beautiful drive even during terrible weather. For those with the time and better weather a few extra hours would be well spent stopping at the numerous river side spots for lunch or walking the streets of the little towns you come across on the way, like Havelock.
Places to stay
Waikawa Bay Holiday Park- close to the Waikawa Bay marina and Jolly Rogers pub (great food, atmosphere and mike the publican is very friendly). There are some self-contained camping spots listed on campermate that could also warrant a look. In Nelson the carpark at The Honest Lawyer is a great spot for those who like watching planes (although we didn't see any as the airport was closed...unfortunately) and it's beautiful on a sunny day with the water glistening.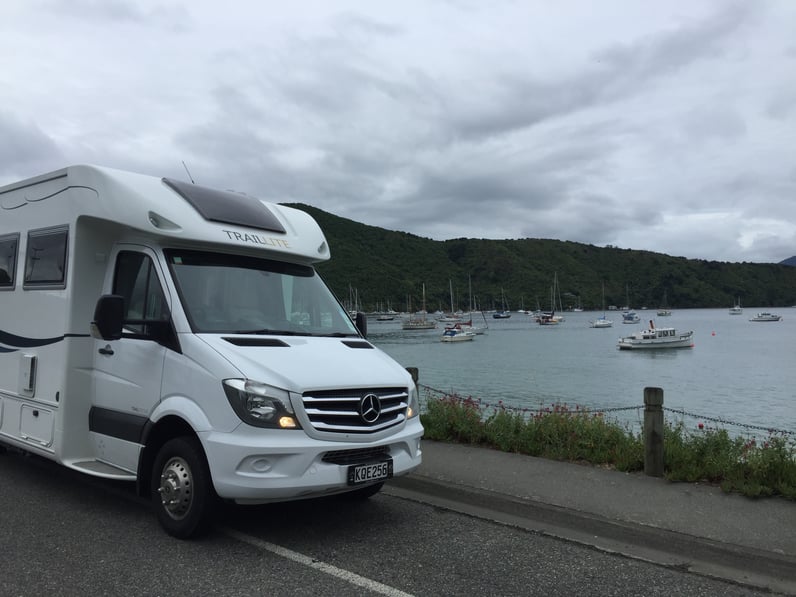 Things to see
Stop at one of the wineries along the way and pick up a bottle of wine for when you arrive at your destination (just make sure the driver doesn't enjoy the wine tasting and waits for later when you're parked up at a gorgeous motorhome spot). If you have time visit the Wearable Arts Museum, it's walking distance from The Honest Lawyer and well worth it!