Thanks to Christina Scurr, TrailLite 300+ owner for the information and details provided in this blog.
Have you ever thought about packing up life in the suburbs for a life of adventure on the road? If you answered yes you certainly wouldn't be the first or the only one thinking like this! Every year we help hundreds of customers with this very dream. In fact I've even considered it myself - especially after spending so much time in these amazing TrailLite motorhomes - they're like mini apartments and make me think it's something I really could do!
One of those customers who TrailLite has out on the road living full time in a motorhome is Christina Scurr. She set off on the road nearly 18 months ago after selling her house and packing up her life in Whangamata. She hasn't looked back since. We sat down with her to speak about full time living; the pros and the cons and get her advice for everyone else who is considering this type of lifestyle!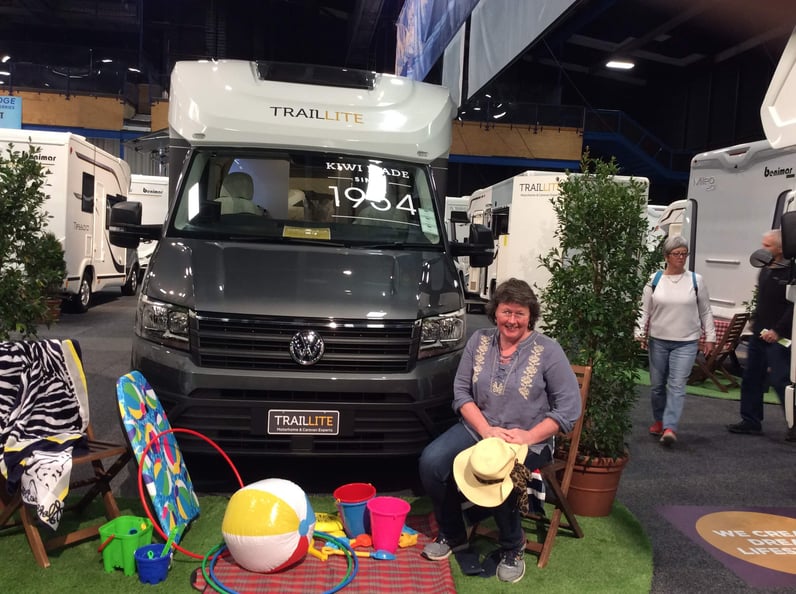 If full-time living isn't for you upfront it could be something that you do after spending a few years exploring on weekends and extended holidays.
Pros
There are so many benefits to this type of lifestyle and it is something that so many people really love and enjoy. We have an amazing country in NZ and are blessed with thousands of kilometres of some of the best beaches the world has to offer, hiking plenty and beautiful native bush everywhere. But what are the positives to living on the road in NZ:
Mobility: No fixed abode means that if you don't like something you can just pack up and move on without much hassle. If the scenery bores you, the neighbours annoy you or the wind changes direction you can up and go. On the flip side when you find somewhere you love you can stay put! Enjoy the privilege of absolute freedom.
Flexibility: If the weather packs a sad then you can relocate somewhere warmer, drier, less windy. Change the coast, move east or west, north or south.
Connections: There is some really interesting and amazing people out on the road exploring NZ. There are an endless amount of people to meet, connect with and stay in touch with, as you travel. Plus they tend to be the most interesting people with interesting stories. When you're parked up and stopped for extended periods you can sit back and connect, listen to all the different cultures, nationalities and lifestyles that people are enjoying. The beauty of time means people aren't afraid to share their stories.
The NZ Countryside: New Zealand really does offer up some of the most glorious of landscapes. There are so many hidden gems that only time will afford. There is 15,000 km of coastline and over 700 monitored beaches, rivers and swimming holes - even if you visited 1 a day it would take you 2 years full time to see them all!
The Cost: Compared to sticks and bricks living the monthly costs are significantly less - Christina Scurr monthly living costs have ended up 2/3 cheaper than "traditional" living. The b

iggest outlay is comprehensive insurance for full time living on a new motorhome valued at over $200k. At the moment Christina is working off a budget of $1200-$1500 per month. A lot less per week than the average price of rent in NZ for a small place ($390 per week).

The Motorhomes: The benefit of doing this type of thing in NZ now is we have access to some really amazing motorhomes that are well set up to live full time in. Not dissimilar to a small apartment with double glazing and insulation, heating and solar power. Check out more information about building a TrailLite motorhome: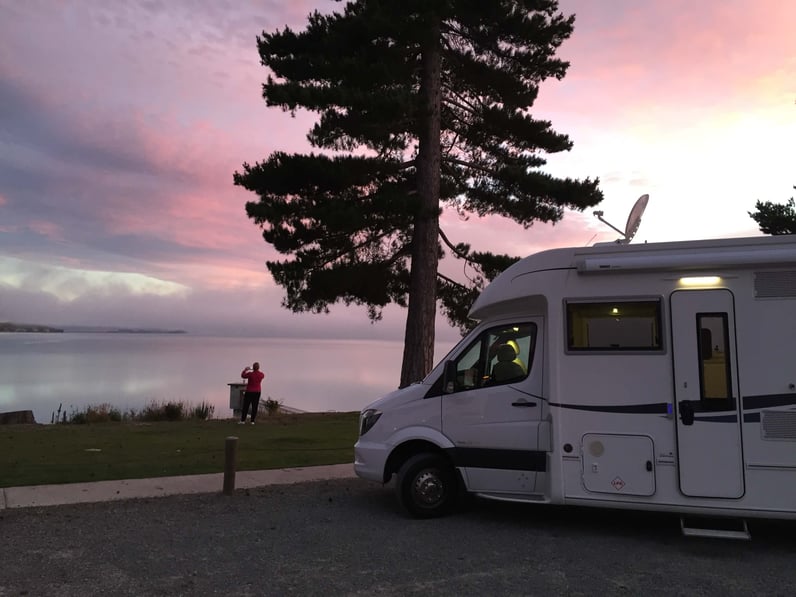 Cons
Mobility: Christina explained that having no fixed abode can cause problems when it comes to filling out forms with government agencies such as Vote NZ.:

"Vote NZ would not accept my private box in Wellington as a physical address, since I don't live there, but, neither do I live at my old address in Whangamata . . . despite explaining the situation they still sent voting papers to Wellington for Whangamata," explains Christina.
Relocation: Sometimes it can become a bit of a chore trying to find places to stay preferably at little or no cost in a new area. The NZMCA app and the weather app are must-haves! I have also used the Campermate app and check out the local councils website. That gives you a good feel whether or not they are supportive or not of self-contained camping.
Staying in Carparks: It isn't always the million dollar beachfront views and sometimes parking and staying overnight in the cheapest place is better than paying for a DOC park or campground. Plus they are often more centrally located so always a silver lining!
Living on the road
I was keen to find out from Christina more about the cost of living on the road. What does one spend money on? And really how often do you need to check into a campground and pay the prices. Some of them can be upward of $25pp per night. I recently did a trip up North with 3 of us and that made some of our nights $75! Self-contained camping is a total must!
However, some are less than that and if you are travelling solo or in a couple that's probably still less than most of the motels in those towns (Bay of Islands). For Christina stopping at these places is a good opportunity, once every 2 weeks or so, to have a long shower, cook up some special treats (use the air fryer), charge up all devices, do laundry and dump and fill everything in the motorhome. Her budget is $200 per month for accommodation/campgrounds.
Food and groceries can be cheaper too. There are loads of roadside fruit and vege stalls that offer better quality products plus you have the time and freedom to prepare and cook meals from scratch. Fewer takeaways, fewer restaurant meals - you'll more than likely have a better view from your kitchen bench than the local 5-star restaurant.
I also met friends who were travelling NZ for a year full time in a motorhome, over from Australia. Their budget was not too dissimilar to Christinas. They had settled on $500 per week for a couple - offering them heaps of fun experiences and a bit of flying around NZ for different weddings they were attending so certainly not "skimping it".
Christina's

hot tips
Christina explains that her number one piece of advice to people considering this type of lifestyle was to do your research on the motorhome and buy the best that you can afford:
"Think about what is going to suit your needs and make sure the motorhome you purchase is fit for purpose. Not all motorhomes will suit a full time living lifestyle.
"I have met too many people already who have changed their motorhome several times (losing money each time) before finding "the one" that suits them" It is so important to be prepared to up the budget you start researching with. If you work out all the money these people have lost chopping and changing they probably should have just invested in the first place.
"Don't expect to find the perfect vehicle just waiting on the dealers forecourt, because some things are truly worth waiting for, like my TrailLite" explains Christina, the freelance nomad.
Learn more about why TrailLites are worth the wait:
Living life on the road really does appeal to so many. Selling up, getting rid of all your possessions and having just a motorhome and the true freedom to explore with no watch, awareness of the day or no set destination. Go off-grid and emerge back into society on your own terms and when it feels right to you.
We are blessed to live in a safe country, where access to fresh water, food and resources are abundant. We have plenty of places to park up and enjoy the scenery. The only thing for me is the winter. However, Christina did say she had tried out house sitting last winter and got paid to walk someones dog and ride out the worst of the weather.
How she put it though "be prepared for itchy feet and that cold open feeling when perched in a huge house full of rooms filled with stuff, to feel glad you don't have to live like that all the time.
So what are you waiting for?