So you have the motorhome, but you've decided you want to take more away with you on your trips. So let's throw a tow bar on the back, hitch up the car, and drive off into the sunset………………………..if only it were that easy!

Towing with a motorhome is a bit of a mind field, and not all motorhomes are created equal when it comes to the ability to tow safely. To ensure you're on the right side of the law and towing safely- let's start with the basics.
Motorhome structure
Firstly, is the motorhome capable of having a towbar fitted?

A lot of European motorhomes are built on a lightweight Alco chassis (imagine light C-section pressed steel). They are a great chassis, with lots of options. Including the ability to extend the chassis by bolting on another lighter extension. That is fine to extend the living space of the motorhome, but it could also be what you have to bolt the tow bar onto.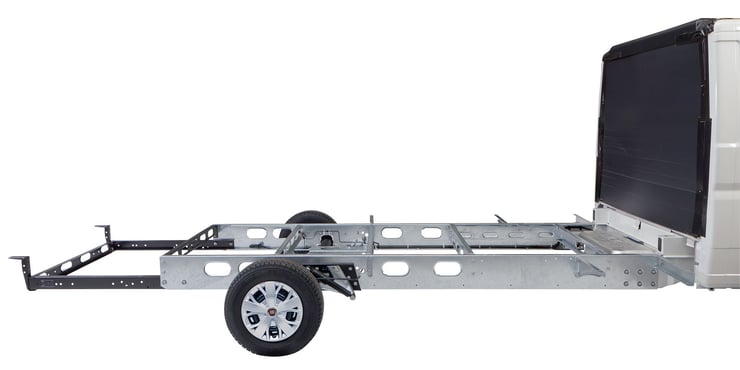 In a previous life I used to be a WOF inspector, and a while ago we had a client looking to trade his 8.0m European motorhome, that he told us had a 2.0 tonne certified towbar. I asked him if he would mind if I took a look under the motorhome to see how they had installed it. I was gobsmacked to see that the towbar had just been bolted to the Alco lightweight extension. There was no cross-brace, and the mounting plates had not been extended back to the main chassis. As I pointed out to the owner, the actual "towbar" was a 2.0-tonne bar, but the installation certainly was not capable of that! Apart from the obvious risk of a towed car breaking loose with the towbar attached, the loads exerted onto the subframe of the motorhome would put the whole build structure at risk of becoming deformed.

Towbars and their mounting installations are put under tremendous loads when towing, cornering & braking, so need to be structurally sound, to protect you as well as other road users. Your motorhome consultant should be able to advise you correctly.
Licencing
The next thing to consider and one thing that a lot of people appear to be ignorant about is licensing. You can dive a vehicle up to 6 tonnes on a car license, so if you have a motorhome with a GVM of 5 tonnes, you can tow something that takes the total to 6 tonnes. After that, you will need a call-2 (H/T) license.

Now a lot of people who tow cars do not realize that the weight of the towed car is based on the GVM of the car, not its towed on-road weight.

If we took a motorhome with a 4.5-tonne GVM, and I tow a car that is 1.45 tonne on the road, you would think it would be ok, right? This is how people make a mistake thinking 4.5 + 1.45 = 5.95.

BUT, if the car being towed has a GVM of 1.66 tonnes, the equation is then 4.5 + 1.66 = 6.16 which will now require a class 2 license. I know there are plenty of people out there doing that, but they run the risk of having no insurance cover, as well as a fine for being over should they be pulled over by the police.
The ideal motorhome for towing is the TrailLite range.
What do you want to tow?
Now we look at what you want to tow. If you're going to tow your classic car on a trailer, you may want to look at a motorhome that has a base vehicle with adequate power & weight to tow the possible 3.0 tonne behind you.

If I get a client looking to tow this sort of weight, I would typically recommend the Isuzu NQR, with its powerful 5.2-litre turbo, or the popular Iveco 70C, with its 3.0 litre, twin stage turbo with a whopping 210 HP.

If it's just a small car or boat, then the Mercedes Sprinter V6 is not a bad bet, or the upcoming VW Crafter, both rear wheel drive, with good broad range power.

For the likes of a standard trailer, or small boat, most other motorhomes should be capable of handling that, as long as you have considered the items mentioned above.

All vehicles have a braked and unbraked rating. Although this is not law, it is a highly rated recommendation. If I were going to tow say 2.5 tonnes behind my motorhome, I would not want to have it pushing me from behind, unrestrained as I try to slow for a tight corner heading down a hill. Not only could it put me in danger, but it also puts a lot more strain on brakes, as well as the whole chassis, and if you are on an Alko chassis that I mentioned before, I think you can now get a perspective of the possible risks.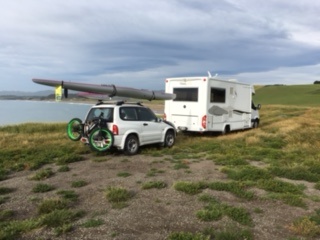 The main thing that I wanted to put across in this article is that if you're going to tow with a specific motorhome, make sure you seek guidance from someone that has the relevant knowledge to provide you with information to give you an outcome that is not only right for the job but safe!! Get a second opinion if something doesn't seem right or if you are worried about your total weight.

Being able to tow what you want adds to the enjoyment & satisfaction of motorhoming. Just like that, we can all drive off merrily into the sunset,………………….. safely & legally!