Family friendly holidays in a motorhome
Until I started working in the industry, motorhoming wasn't something that appealed to me. In fact, despite having access to a wide range of motorhomes on a daily basis, it was several years before we took the plunge and tried our first family vacation in a motorhome. My wife and I used to enjoy camping in remote DOC campgrounds in Northland and the Coromandel and we wanted to get back into it . We still had two very young children at that stage and after thinking about it, the thought of running hot water, comfortable beds, a fridge freezer and all the luxuries we didn't have in our tent was very appealing.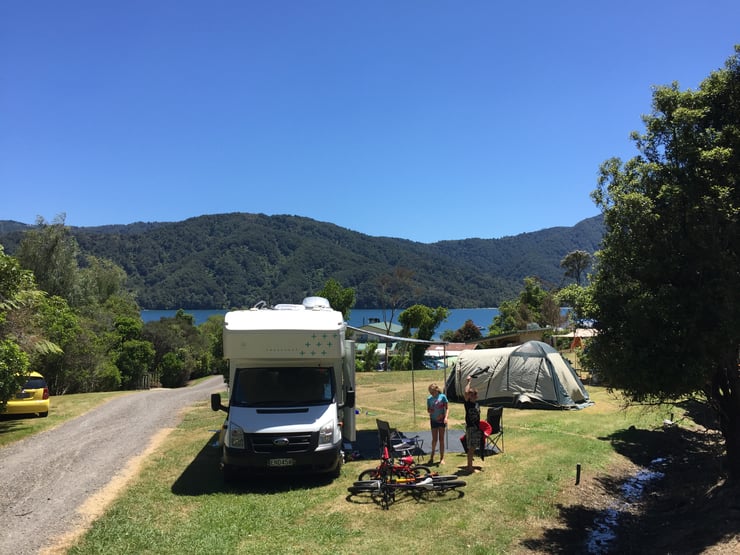 Working at TrailLite has its benefits, and we quickly found a late model, TrailLite Coromandel 957 that would more than do the job. With a separate shower, comfortable queen-sized bed and huge rear lounge, the excitement began to build.
That summer touring the Coromandel with the luxuries of home and only a loose plan was one of the best family holidays we'd had. We were hooked!
We made holidays in a borrowed TrailLite a regular event after that. It peaked when a near new TrailLite with a slide-out room extension, central vac system, 600 litres of fresh water and even a heated towel rail became available for an extended trip. We travelled up the Waikato River, exploring and swimming in the river every chance we had. From Taupo we headed to Hawkes Bay where we cycled, visited wineries and took the kids to Splash Planet water park in Hastings. Each night we retired to the comfort of our luxury apartment on wheels. What a way to see the country!
Borrowing a motorhome was great, but transferring everything in and out along with the uncertainty of whether a motorhome was available when we wanted it meant we eventually bit the bullet and bought our own family motorhome.
While our budget didn't extend to the kind of luxurious TrailLite motorhomes we were used to using, having our own motorhome meant we were able to personalise it to our needs. For us that means room for 5 bikes, a roof box for storing an inflatable paddle board and other toys, upgraded water and solar capacity, an upgraded stereo and exterior graphics that make the van look like our own.
We use the motorhome as regularly as we can, which between school, work and kids sports is not as often as we'd like. When we're not using it we love sharing it with friends and family. They too are hooked and have become regular users of the motorhome.
Motorhoming with a family is great fun and every one of us is passionate about it. We love the freedom of not having a set plan. It feels like we're really exploring, making plans as we go. If we like a place, we stay a day longer. If not, we move on. Often the kids will make friends and they'll beg us to stay a day or so longer.
Our costs on the road are really low as we prefer low-cost or free self contained freedom camping over camp grounds (Here's a blog post I wrote earlier about motorhome and caravan costs). We stop at a camp ground every few days however, which allows us to do washing, have a long shower and stock up for a few more days. We use the Campermate app to find free and paid for camping spots, dump stations, fresh water, laundromats and everything else we need on the road.
Summer destinations are easy. Just point the van towards a river, lake or beach. Areas with cycle trails and farmers markets are favourites for us, although these can be found almost everywhere these days. In winter we like Taupo and Rotorua. Both have incredible down-town free overnight parking, hot pools, great cycling and plenty to do if the weather doesn't play ball - a motorhome can be a small place with five people if it's raining outdoors! Waitomo caves are also a great winter destination and we're really keen to try the hot pools and mountain biking in Te Aroha.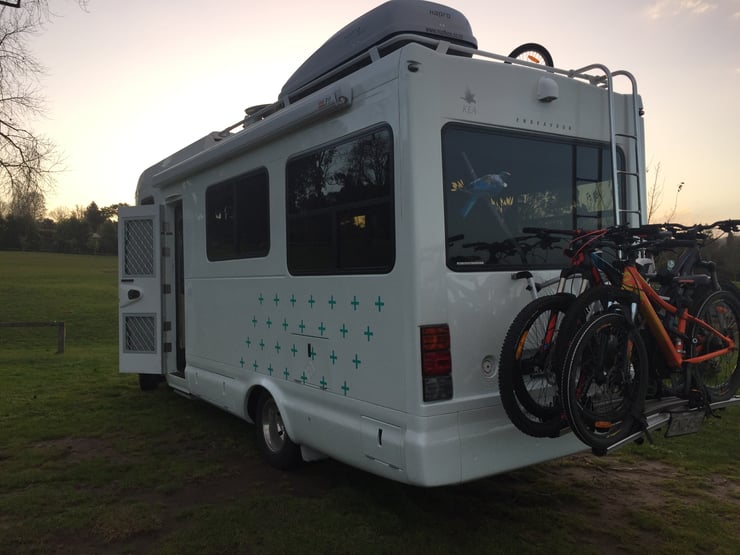 We've seen a lot more families on the road in the last year. People who have borrowed a motorhome and others like us who love it so much they've bought their own. There's a definite trend towards families in motorhomes and it's something we're seeing here on our Pukekohe and Christchurch sales yards too. We've even seen a few families trading the family bach for life on the road. I think our Benimar 346 and 323 floorplans are great family options with loads of storage and fixed beds for the family.
We've learnt to empty waste water and take on fresh every opportunity we get. Between five of us we go through a bit and when you don't have a firm travel plan, you don't know when your next chance might be. We also know it sometimes takes us a few days to get into a rhythm. It can be a tight space for five, but after we adapt we're into it!
As the kids get older we're hopeful they'll continue to enjoy motor-homing with us. We're making plans for that next stage with a motorhome that has space for them to take friends, has more privacy and carries an inflatable boat and small outboard for motorised fun. Hopefully we'll be exploring this beautiful country together well into their teens.