Great Rides - The Timber Trail
This Great Ride is one of the best!
The Timber Trail is one of the Great Rides of New Zealand, and I have to say that it is the best I have done so far. Set in central North Island, this stunning ride offers a fascinating mix of impressive feats of engineering, historical artifacts, rare native wildlife, and some of the most beautiful bush you could ever hope to see, including one of the rarest stands of podocarp forest in New Zealand.
Having been avid mountain bikers for many years, my husband and I are enthusiastic converts to the mighty e-bike. Contrary to feeling like they are the "easy option", we've realised that now we can go harder, faster, further, for longer, and we are loving them! Plus, we are getting a bit older… so there is that.
We first rode the Timber Trail in the height of summer and it was easy to see why it was so popular. What did surprise us, however, when we returned on a very cold, wintery weekend in June, was that it was equally as well patronised. It turns out that the free-draining volcanic soil of the region means that the track remains in comparatively good condition throughout the year. As we enjoyed our first foray to the Timber Trail so much, on our second trip, we brought a group of our mates along as well.
The 85-kilometre, two-day ride begins in the tiny settlement of Pureora, tracking through the outstanding Pureora Forest Park and dropping down to the halfway point of Piropiro. The following day, you follow the historical logging tramway back to Ongarue. The ride is classed as a Grade 2-3 (easy to intermediate). We had some inexperienced riders in our group who took it nice and easy, but there was plenty of fun to be had for those of us who like a little bit more excitement!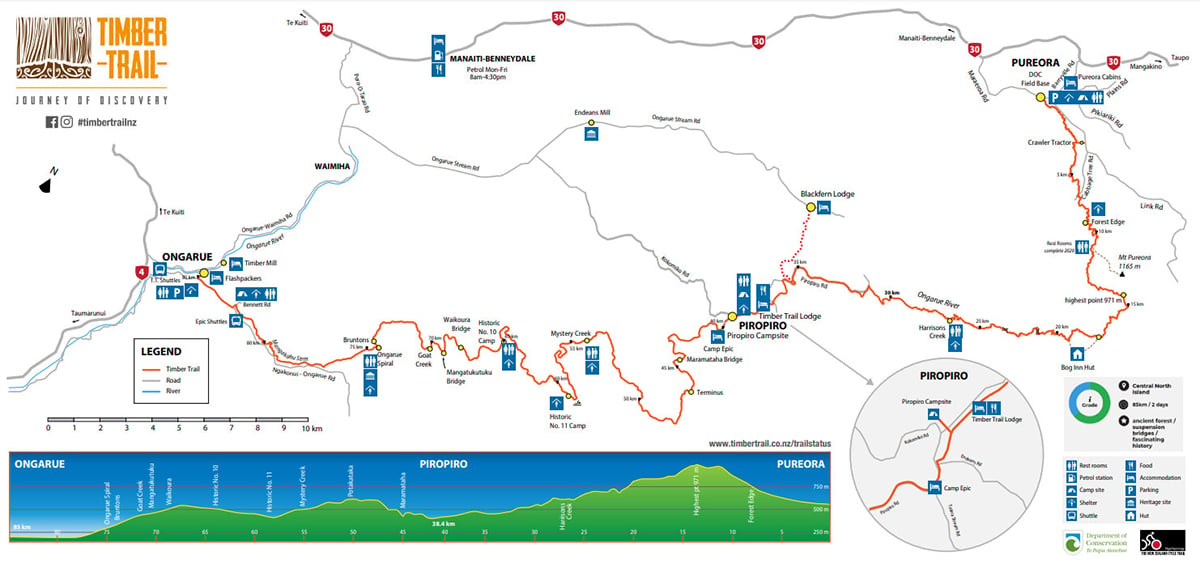 Getting prepared – our Top Tips
The Timber Trail is extremely remote, there is very limited cellphone reception, especially on the second day, and access is very limited. This means that it is essential to take everything you need.
Appropriate clothing: Be prepared for all weather conditions. Ensure you pack several layers of clothing, including waterproofs.
Take a dry pack: No use in having all those spare layers if they are soaked through!
Bike Repair Kit: Spare tube and/or patch kit, tyre levers, bike pump, and a multi-tool are the basics.
First Aid Kit: Accidents can and do happen on this track. We've had to administer first aid ourselves after watching a hapless rider take a tumble.
E-Bike Battery: It is unlikely (unless you are a machine) that your bike's battery will last the full 85 kilometre ride.

MAKE SURE YOU TAKE YOUR E-BIKE CHARGER!

Or if you are planning to stay in your motorhome overnight, ensure you actually CAN charge your e-bikes without draining your house battery.
Food and water: Make sure you have plenty of both. There are water supplies along the way, but any water you take from rivers and streams must be treated first.

Personal Locator Beacon (PLB):

Highly recommended. If you don't have one, you can hire them from Timber Trail Shuttles.
Safety First!
Don't let a nasty accident ruin your time on the track. Ensure you always…

Wear a helmet - always
Keep to the left, particularly around corners
Be familiar with your bike
Ride to your ability
Pay heed to all warnings (sharp corners, crumbling cliffs etc.)
Let someone know where you are going and when you expect to return.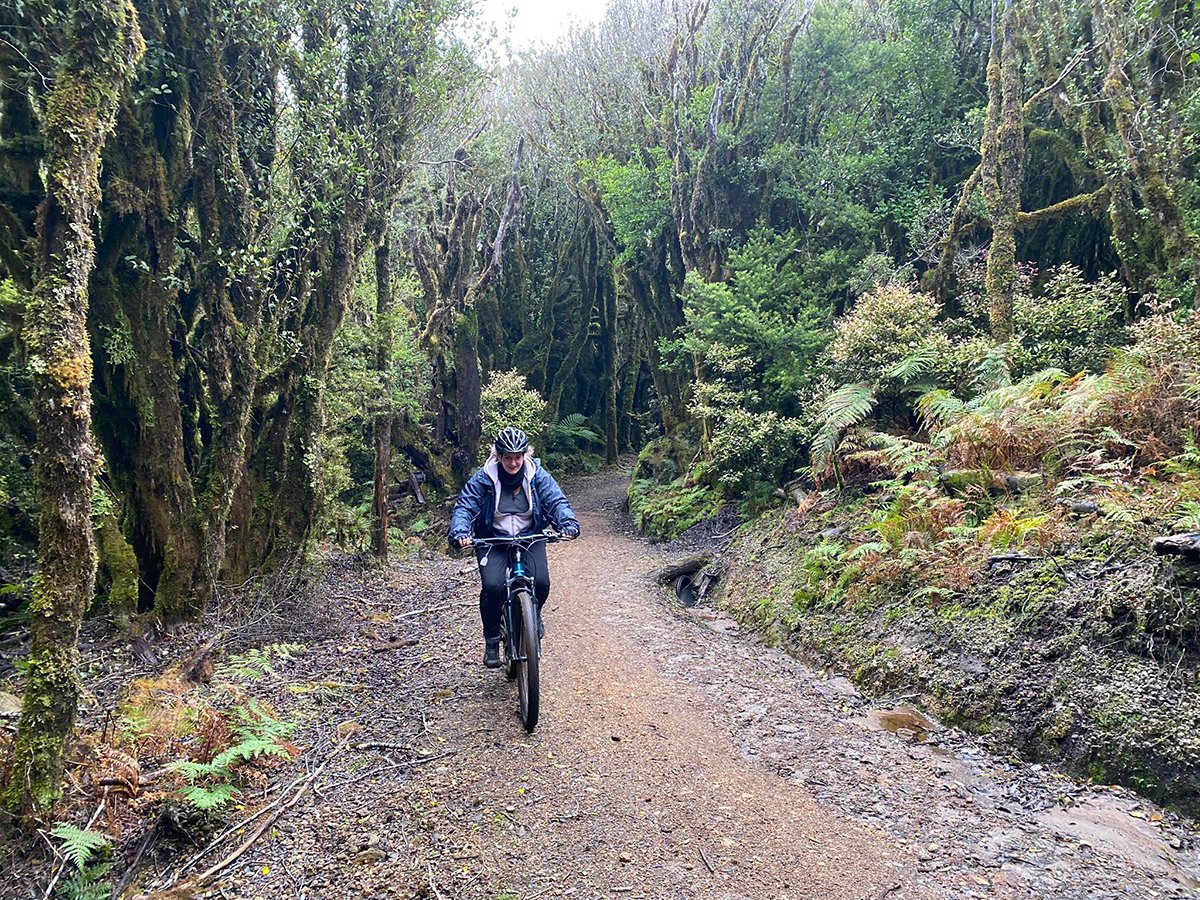 For the most part, it was a well-maintained and level track, although some of the downhill was a little bumpy thanks to recent bad weather.
We opted to book a biking package through the Timber Trail Lodge which I can highly recommend. They organised everything, including bike hire, shuttles, accommodation and food. Our trip started at Timber Trail Shuttles based in Ongarue. They welcome overnight campers in self-contained motorhomes and caravans. The fully-fenced (albeit very muddy!) carpark provided a secure base for us to begin our two-day trip from, especially given the early start the next morning! Those in our group who didn't have e-bikes were conveniently able to hire them onsite, then it was time to load up our bikes and begin the hour-long shuttle ride to the start of the trail at Pureora. The shuttle then went on to take our overnight gear to the Timber Trail Lodge at Piropiro.
It was an icy cold start to the day, but we soon warmed up with the long and winding climb up Mount Pureora, the highest point of the track at a hefty 971 metres. I felt well rewarded, however, as we entered the atmospheric Cloud Forest - a beautiful stand of gnarled and wizened trees with garlands of moss gently swaying in the mist. So pretty – and kind of spooky too.
The second part of the day was mostly downhill, with stunning views from the huge suspension bridges that dangle in what seems like mid-air as you ride over them! Looking down through the canopies of native trees to the churning water far below is an amazing experience. There are eight bridges altogether and they really are one of the highlights of the ride.
We arrived tired and muddy, but very happy at the Timber Trail Lodge after around 4 to 5 hours. The Lodge is set up perfectly for e-bikers. It's like riding into a town in the wild west a couple of hundred years ago and tying your horse to the hitching post (in this case a bike stand complete with power point). Do NOT forget your bike charger! Our chargers had arrived with our overnight bags, so we parked up, plugged in and headed on into the "Saloon" (in this case, the Lodge) for pizza and beer by a roaring fire. Yay!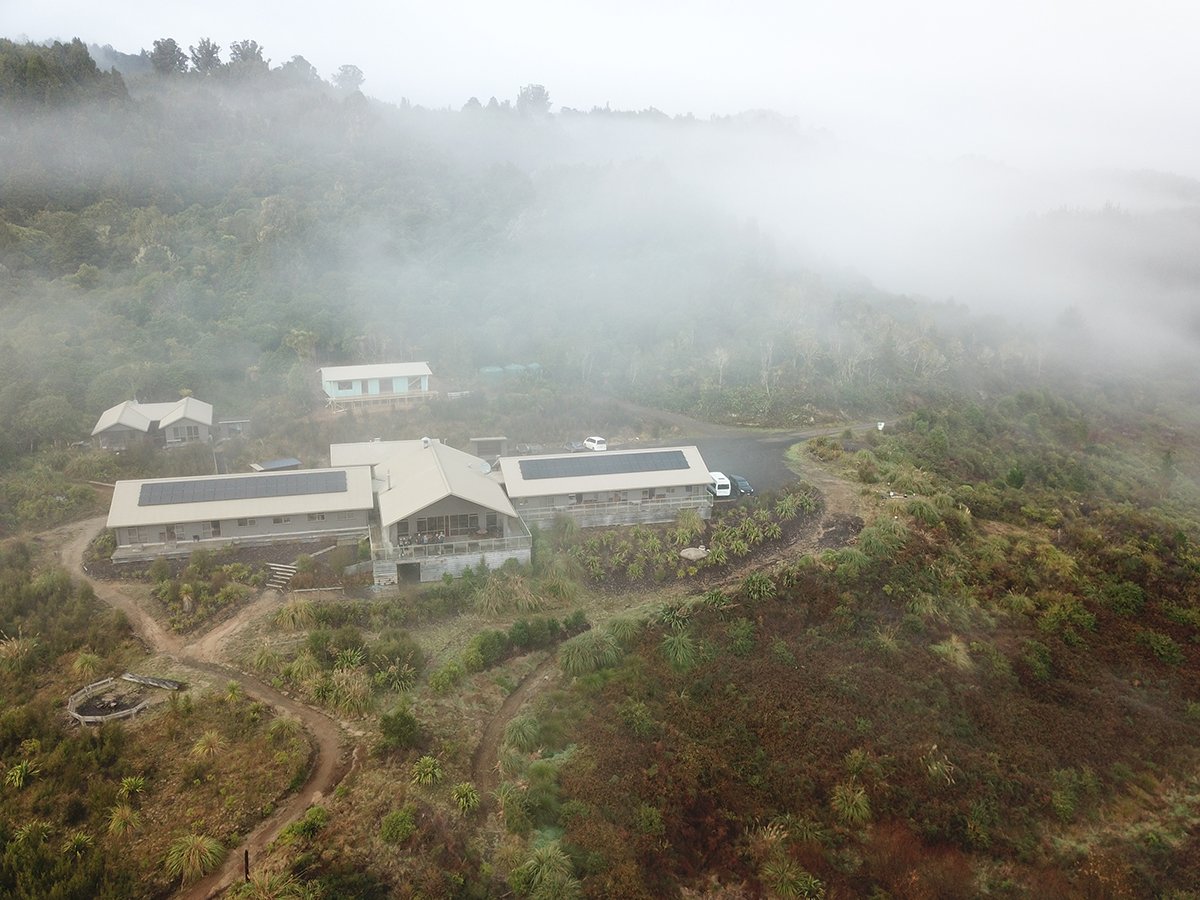 The Timbertrail Lodge on a misty and cold winters day.
The Lodge is pretty new, it's really cosy, and operates completely off the grid. It has come to be recognised as a great example of sustainable, environmentally sensitive tourism, so it's worth checking it out. We also loved being able to chat with other biking and outdoor enthusiasts, from here and abroad, over a yummy family-style dinner. A hot shower and comfy bed rounded off the day really nicely.
The next day we grabbed packed lunches, prepared by the lodge, and head out early. It was really cold – again, but we were quickly rewarded when just 5kms into the ride, we reached the Maramataha Suspension Bridge. At 141 metres, it's the third longest in New Zealand and truly spectacular.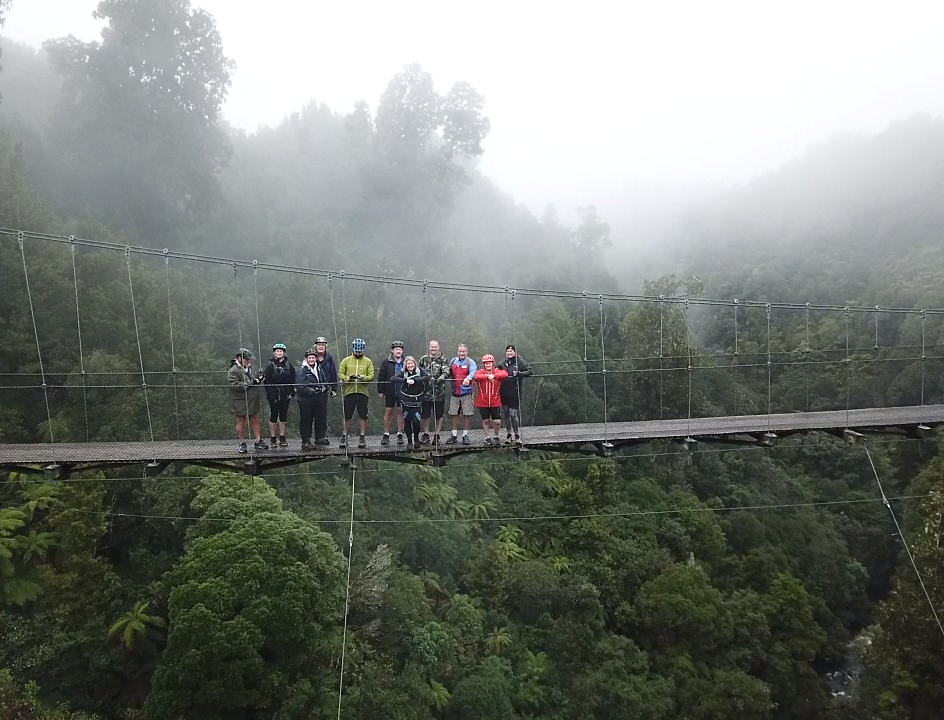 The Maramataha Suspension Bridge, one of eight awe-inspiring bridges along the trail.
We did run into some unexpected bother. The several months of the ghastly weather we've been having had taken its toll. We came across a huge tree down across the path and had to go off-road into really dense and sodden bush to get around it. It took all our muscle power to lift the heavy e-bikes back onto the track – a strong reminder to be prepared for the unexpected.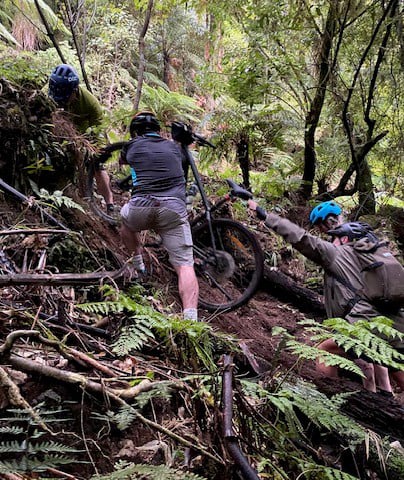 Another highlight of the second day was following the old logging tramway (hence – Timber Trail). We rode past old machinery and huts the loggers had used, over bridges they had constructed and through hills they had carved out. We got a real sense of the conditions they worked under. They certainly must have been made of stern stuff in those days, it can't have been an easy life. Fortunately, logging in the area was stopped several decades ago, allowing the beautiful forest to regenerate. It was a gentle downward ride from then on, culminating in the famous Ongarue spiral, which is apparently, a great feat of engineering and really fun to ride around.
Ten kilometres later of some really fun downhill, pretty farmland and quiet roads, we were back in Ongarue. The Timber Trail is so beautiful and varied, that I could do it all over again tomorrow. What a trip!
There are lots of different ways to experience the Timber Trail. Although we booked a package and had everything arranged for us, there are plenty of other options...
Park up at the DOC campsite at Piropiro. Take a morning shuttle

to the start of the trail, ride to Piropiro and complete the ride the following day. Just make sure you have the battery power to charge up your e-bikes.

Glamping!

The Lodge isn't the only option, next time, I really want to try Camp Epic, it looks awesome! They also offer packages, shuttles, and bike hire.
Use a non-powered bike. There are plenty of riders on the track (much fitter than myself!) who were riding normal bikes and loving it.
You can do the trail in the opposite direction, but I don't recommend it. The contour of the track from Pureora to Ongarue lends for a more pleasurable ride. Plus given it is the most popular direction, there is far less chance of a head-on collision!


Our group had a blast, and we are busy planning our next Great Ride. We've done the Whakarewarewa Loop, and next, we're thinking the Twin Coast Cycle Trail but we are definitely open to suggestions. We'd love to hear about your experiences, feel free to post them here!