GVM, tare weight and payload... what do they mean?
So you've heard all these strange terms pop up while searching for a motorhome or caravan- GVM, Tare, Payload- and you're thinking... what?
Though these terms are so important, they are still a grey area for many, causing confusion and much debate amongst motorhomers and dealers alike. Knowing these terms can be the difference between an approved warranty/insurance claim, and even safety while on the road.
So let's start with some key terms before we delve into the details.
Key terms
Tare weight: the weight of the vehicle with a full tank of fuel and nothing else on board (the naked weight).
GVM: Gross Vehicle Mass: the maximum allowable weight for the vehicle including all passengers, onboard water (fresh, grey, and black), supplies including food, personal items, bikes, tools, sporting equipment, gas bottles, everything.
Load Capacity/Payload: the total available load in kilograms allowable for the vehicle to carry – this is the difference between the Tare weight (naked weight) and the GVM (maximum weight).
CVM: Combined Vehicle Mass: the maximum weight that the vehicle, onboard load and anything being towed totals.
These details can be found on your rego sticker in the front windscreen.
Load Capacity
We can now use the terms above to calculate a vehicles load capacity. Here are some practical examples of how to do this:
A Motorhome has a Tare weight of 3140kg, the GVM weight is 3500kg – meaning the available load capacity is 360kg's. This is considered "tight" as the occupants, water and supplies need to weigh in under this figure.
A motorhome has a Tare weight of 3120kg, the GVM weight is 3650kg – meaning the available load capacity is 530kg. This is considered around standard for many European Motorhomes and would be adequate for a couple travelling with a medium capacity of water and supplies onboard.
A motorhome has a Tare weight of 4120kg with a GVM of 5500kg – meaning the available load capacity is 1380kg's. This is considered generous and will allow for plenty of passengers and load, with a generous capacity if and as required.


Here's an example of what to consider when trying to figure out how much payload you will need:
Filling up the water tanks: 1L = 1kg so a 120L tank = 120kg
Body weight: work out your body weight times how many passengers you will be bringing. We usually roughly estimate 150kg for toys, food, body weight and clothes per person as a quick overview but it pays to be more accurate especially for those who are working in that "tight" category.
Keep in mind the weight of your extras too. Do you want an awning, extra tv, bike rack, extra solar panels? All of this can add up to 50kg reduction in your payload.
But why is this so important?
Being the correct legal weight while on the road and out traveling is important. You'll want to ensure you remain within the legal requirements of your vehicle for a whole range of reasons including avoiding infringements, safety and insurance purposes.
Hence the importance of doing research into load capacities and working with reputable dealers. We recommend asking what the GVM and tare weight is up front. Making yourself very clear when you add extras exactly the weight is of what you are adding (awning, bike rack, extra batteries, extra solar). Keep in mind that anything 3500kg and under is more than likely going to fall into a "tight" payload category. You will just need to be comfortable that you have done your homework and worked out your weights.
If purchasing privately, please do your homework thoroughly to ensure the vehicle you are considering will meet your personal and legal requirements – when using it in the way you intend to.
Licensing
Another thing to keep in mind is the type of license you have. Depending on the mass of your vehicle, you may need a Class 2 license to drive it. This is a class higher than a standard car license. Let's dive into more detail about this, and the regulations that apply.
Class 1 License:
A class 1 license is a standard car license and applies to vehicles up to a Combined Gross Mass of 5995kg (just under 6 tons) Many motorhomes are under 5995kg and driven on a standard car license (Class 1).
Be aware that if your motorhome and anything being towed (car, boat, trailer) weigh more than 5995kg combined – you require a class 2 license.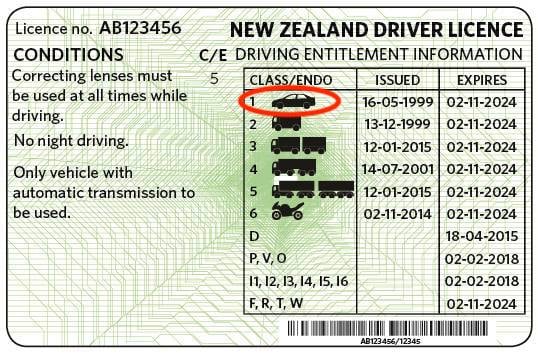 Class 2 License:
A Class 2 license allows you to drive a vehicle up to 18,000kgs or a vehicle with two axles and applies to any vehicle over a Gross Mass of 6000kg. Many larger and older truck-based motorhomes are over 6000kg GVM and require a Class 2 license to drive. If you want to know more about the process of getting yours, check out our blog on getting your class 2 license here.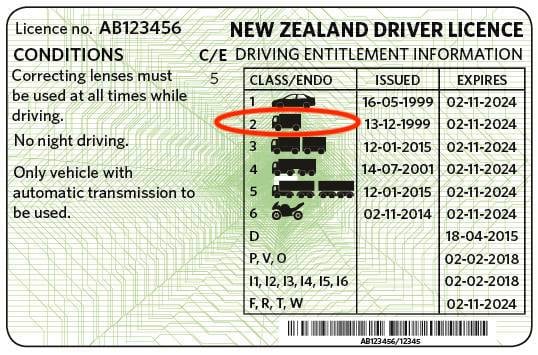 Please note: When looking to purchase a new or pre-owned motorhome, ensure you have the correct license to be able to legally drive – or be prepared to obtain your required license.
WOF and COF
You would've heard of a Warrant of Fitness before - most cars require this to be on the road. However, some motorhomes are also able to be on a WOF too.
The requirement for a vehicle to be on a Warrant of Fitness is to be under or up to 3500kg GVM. This means that with full tanks, clothes, people and golf clubs, your vehicle mass can't exceed 3500kgs.
The benefit of being on a Warrant of Fitness is that the vehicle only has to go in for compliance every 12 months, as well as the cost being as minimal as $60. You can learn more about WOF here.
For vehicles 3501kg GVM or over, the vehicle will need to be registered for a Certificate Of Fitness instead. A COF requires compliance every 6 months. You can learn more about COF here.
So comparing the two together, you can see one is less frequent than the other but you really shouldn't use that as a motivator to whether you buy something that suits your needs or something that doesn't
It is important to consider what lifestyle you want to be living on the road. Do you own E-bikes? How many people will be on board with you? How much more spec are you adding on? All of these questions help predict how much weight you will be taking with you. If you arent prepared to compromise or sacrifice some things, you may find yourself with no choice but a COF. This is where a product consultation is so important! Email us here, or click the picture below to get in touch with the team.
It is extremely important that you don't compromise your safety for the sake of convenience. After all, being caught over the weight limit not only can incur hefty fines but will be a downer on your epic road trip too!