What can you expect when trading in your motorhome or caravan?
Not dissimilar to cars and homes, motorhomes and caravans often need an upgrade, downgrade, change or replacement. While recent studies suggest the average age of a motorhome is about 8 years, we see people changing a lot more and less frequently than that. When it's time to move on to your next motorhome or caravan, there are a variety of options to assist you getting into that next model.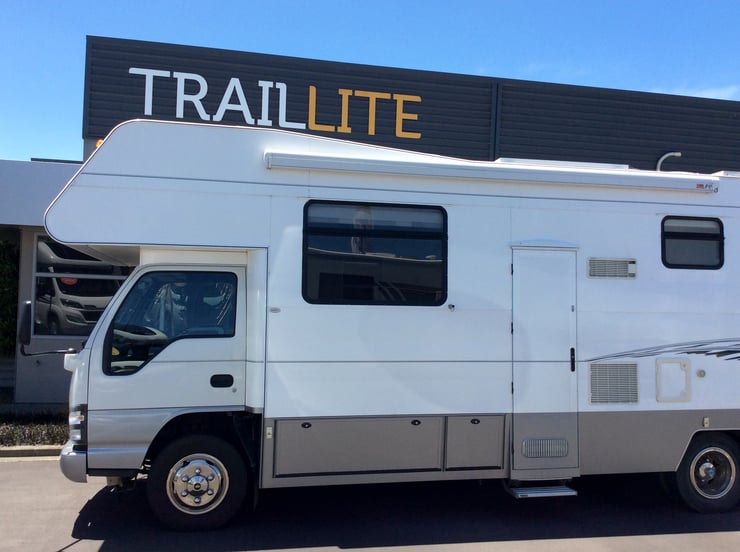 There are many reasons why one may choose to change from their existing motorhome and caravan including:
Changing to another floor plan more suited to their current needs
Moving to something smaller and easier to drive for both parties
Changing from a drivers license to a class 2 for more storage and payload capacity
Moving from a motorhome to a caravan or vice versa
Deciding to live full-time so needing something with more features and specification
Wanting to upgrade to keep up with the latest specification and features
It's never too soon or late to look at changing - we have couples who put their names down for another build slot almost immediately after picking up their new motorhome, while others may stay with their existing model for 10 years at a time.
TrailLite have over 60 years of experience in the motorhome and caravan industry and can easily offer a trade, or at least advise on how to manage your existing motorhome or caravan.
Trading is a stress-free option. Let's look at why trading works for so many people.
It can allow you to keep your motorhome or caravan up until the point of picking up your new purchase, which can be important to those who have a very active motorhome/caravan lifestyle schedule. It's not until you are without your leisure vehicle that you realise how vital it is to your lifestyle and well being.
It takes away any uncertainty in regards to the price you might get for your existing asset
It removes the stress of the selling process, especially if you're faced with privately selling.
It allows you make the best purchase decision possible as you aren't reliant on selling to identify your budget.
It allows you to secure your new motorhome when the best model becomes available.
A good trade appraisal is a detailed and thorough assessment of market conditions. At TrailLite, to make it as easy as possible for the purchaser, we email potential traders an online form. From there, we can collect all the motorhome or caravan details and specifications, including photos. For those living outside of the main centers, it's as simple as filling in an online form to determine what you may get for a trade price.
From here, the motorhome goes through a comprehensive evaluation and valuation process. A valuation process takes into account current market conditions, the sale ability of your vehicle, and most importantly, previous data. You should expect to be provided with a valuation that includes a detailed trade value, both if you were to trade today and/or a delayed option should you want to trade on a motorhome being built or coming in from overseas. Most trade valuations will be subject to viewing and a set of criteria like regular service records and a current WOF/COF.
When you trade with TrailLite you would be booked into the TrailLite Service Centre for an inspection of your motorhome or caravan. This gives the new owners absolute peace of mind that it has undergone a TrailLite quality check.
A trade price will always be less than what the motorhome or caravan would retail for, so be wary of people offering high trade values. They could be unlikely to follow through once your new motorhome or caravan is ready, meaning you're stuck with two! You'll also want to be sure that any trade valuation is on paper and not a verbal offer- we all know how quickly verbal offers can fluctuate. One minute you're expecting a certain amount for your vehicle only to find out once a proper quote is prepared that your changeover is quite a bit different than expected.
It's as easy as that! A great way to exit out of your last motorhome or caravan with as little stress as possible. Many people decide on the trade option because it's risk-free buying. You can get into something new for little effort and stress. If the trade option isn't going to provide you with the changeover price you were hoping for, TrailLite can always discuss a sale on behalf option. This is where a basic commission structure is used rather than an ownership trade.