A motorhome warranty is an important part of any purchasing decision. There are so many motorhomes for sale in New Zealand most offering some form of a motorhome warranty - but which ones are the best? and what should you look for?
It can sometimes be easy to get caught out believing that the longer it is the better it is however while in some cases this can be true in others where there is no local parts, no service agents and no after sales follow up a 3 year warranty can quickly become a nightmare!
Find out all the facts to be sure that the motorhome warranty on the product you purchase performs in the way you want it to!
Generally a motorhome warranty can be broken into four main areas:
The vehicle

The appliances inside the motorhome

The build of the motorhome body itself

After sales care and parts.
The Vehicle
In most cases the vehicle will be covered by the manufacturer of the vehicle and any claims will be made directly with the dealership network of the vehicle make.
It is important to ensure the vehicle your motorhome is built on has a strong dealer network spread throughout the country, for ease of repairs, servicing and parts. Be careful as not all vehicles are supported in New Zealand and there are some that once brought into New Zealand has no or very limited dealer network, to support the vehicle.
The Appliances
Appliances inside the motorhome will range from no warranty to warranty periods of up to three years. The appliances include such things as the fridge, water heater, oven, space heater, microwave, TV's, Satellites and similar.
Depending on brands of appliances and the model used the warranties will alter significantly. Ask the question when looking at motorhomes to determine exactly what things are covered and what are not. It is important to ensure that the appliances inside the motorhome have full warranties but also parts back up. Some products can come will little or no support meaning fixing the appliances, warranty or no warranty, can be a very costly and time consuming process.
Take a fridge for example; it's vital to motorhoming and without one could take you off the road for sometime while you wait for it to be fixed. A local well known fridge brand will have parts available at any of the big service agents meaning your fridge could be fixed under the warranty getting you back on the road much quicker than if you had to wait for parts to be shipped from overseas.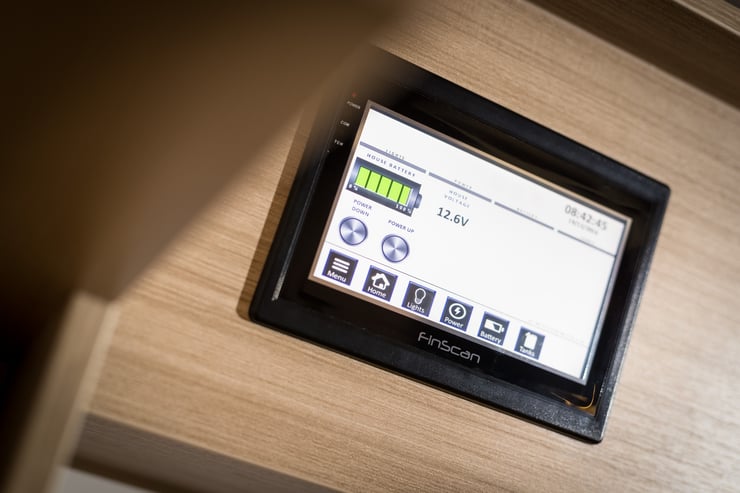 Motorhome build
A good motorhome warranty will usually be broken into two key areas; water ingress and general build quality.
Water ingress relates to any water entering the Motorhome and these warranties can be anything from three to ten years depending on the brand. It is important to note in most cases annual or bi annual service checks will need to be completed to ensure the warranty remains valid, as claims can be void if the servicing history is not maintained.
General build warranty will cover things such as cabinetry and other general aspects and will be shorter in nature due to general wear and tear. The build warranty will likely range from two to seven years, depending on the build quality of the motorhome and the backing of the manufacturer.
It's important with any build warranty to ensure the company building the motorhome has an onsite service centre or space available to complete repairs made under the build warranty. Also a long build warranty is completely useless if the manufacturer goes out of business that's why choosing a company that has a long history and a strong future is a wise choose.
Parts and after sales care
Another key aspect to look at before any motorhome purchase is the supply of general parts and after sales care. The reality is most of your motorhoming will be done a long distance from where your motorhome was purchased meaning you need to check what they have in the way of an after sales network. If you have issues in the South Island or North Island, will you have to travel far to get issues covered under warranty?
The other key area to look out for is parts availability. A large number of new motorhomes purchased in New Zealand are manufactured in the UK and Europe. If you have a warranty claim, have an accident which you claim through insurance or in some cases break a windscreen for a vehicle with a specially designed windscreen, will these parts be available in New Zealand for immediate repair or do they have to come out of the UK / Europe, sometimes meaning a 8-10 week delay. Some good things to look for when it comes to parts availability on international products is;
Does the company have a dedicated parts person available to ship and order parts required for the motorhome?
Is the company big enough to stock a range of commonly used parts or are they going to order one from the UK/Europe everytime something goes wrong meaning continual delays?
Who is my contact on warranty and parts? Is it the sales person who may understand the benefits of buying a motorhome but might not understand the ins and outs of fixing one or have i got access to a after sales service centre with suitably trained staff?
There is heaps to consider when it comes to warranties but if you can remember one thing it is that no matter how good the warranty looks on paper you want to ensure you trust and have confidence in the company executing it.
TrailLite - we've got yout covered!