Hanmer Springs is a great place for motorhomers and caravanners despite not permitting self-contained camping in the township. They've accommodated with dedicated parking areas, picturesque and accessible day parking spots, dump station facilities and great options for overnight.
Today we were lucky enough to enjoy the beautiful sleepy village of Hanmer Springs plus be hosted at the Hanmer Springs Resort and Spa. They perform 200,000 spa treatments and welcome 2 million visitors a year making them the largest thermal pools in the South Island.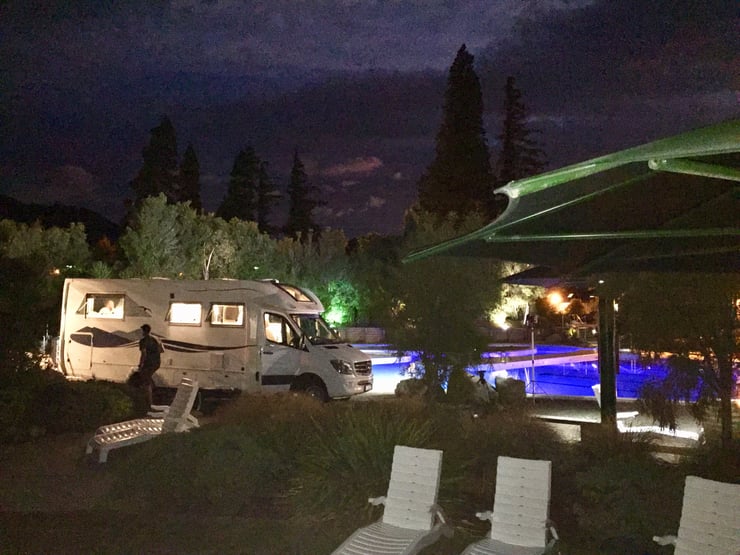 Only 90 minutes from Christchurch, Hanmer Springs is a popular weekend location for Christchurch motorhomers and caravaners. The trip from Nelson to Hanmer is quite long so if you're up for it, a quick dip in the thermal pools is a nice way to end the evening. For us there was work to be done, turning 5 hours of filming into a 90 second clip for the next morning!
For more great kiwi road trips like this one download our free kiwi road trips e-book.
Hanmer springs is a beautiful town best described as a small tourist Mecca similar to something you'd expect to find in Canada. There is great shops, cafes and heaps of activities for the kids. Even outside of the beautiful pools, that could and do keep families entertained for hours.
Now while our location for the mornings crosses may not have been the most "available" camping spot for most motorhomers it sure was picturesque. The sunrise over the tall trees that surround the thermal pools offer a gorgeous morning and the mountains that frame the pools were almost identical to those that grace the side of a TrailLite motorhome.
For those that missed it, Matty was lucky enough to wake up in "Mattys Paddy Wagon" (named by the viewers across the morning) poolside at Hanmer Springs Thermal Resport and Spa. Complete with waterfall and neon lights to enhance the breakfast experience.
After the mornings cross the pools flooded with people who'd lined up for the official opening hour. apparently a normal ritual for the staff there.
After exploring the town a little more we headed off to Christchurch on the 90 minute drive. At the moment with the road works going on in the roads in the South it did take more like 2 hours with no stops but still it's an easy and scenic drive so shouldn't be forgotten as a weekend destination for Christchurch motorhome or caravan owners.
Place to stay in your motorhome:
It was so windy all night that I was convinced the weather was turning terrible for the morning. Do be careful where you stay; apparently
as the locals told me the wind comes up the gully so if you're not in a sheltered spot you'll be in for a wild night
. I think I checked 5 times if all the noise
was in fact rain
, wind or someone shaking my camper! There is a few suitable camping spots included an NZMCA park over property as you come into Hanmer Springs
. I stayed at the Pines Holiday Park.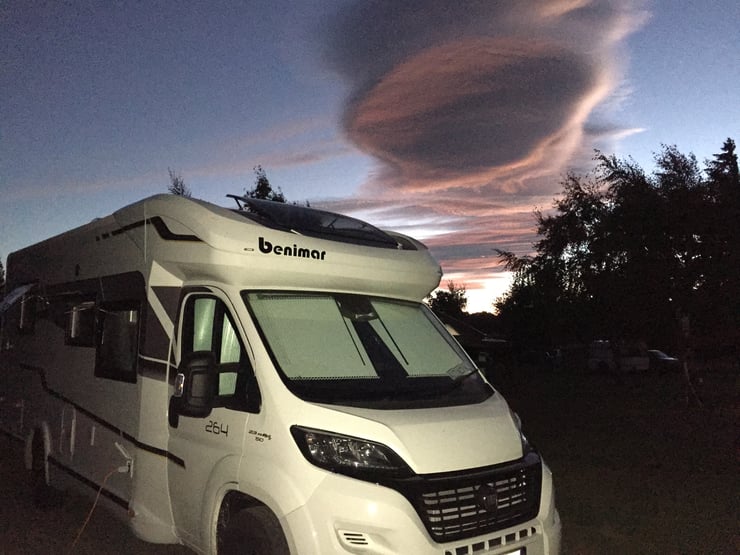 There is also a very accessible facilities station as you enter so it's perfect for motorhomers and caravanners.
While self-contained camping won't be high on the agenda and the camp spots are on the more expensive side it's still worth at least one night!
Things to see:
Do get a return pass into the thermal pools even if you're only there for one day. You're not allowed to stay overnight in the main street however you're allowed to park there for the day and heaps of motorhomers do. Head into the pools enjoy a soak and come out for some food or a rest before heading back in for an evening dip!