Motorhomes vs. Campervans - what's the difference?
Motorhomes and campervans are both popular options for travellers seeking a mobile home-away-from-home. While they may seem similar at first glance, understanding their distinctions is important for making an informed decision. We delve into the differences between motorhomes and campervans to help you determine which one suits your needs best.
Size and Space
Motorhomes


Motorhomes are typically larger and offer a more spacious living area. These vehicles are built on a truck or bus chassis and often feature separate sleeping, dining, and bathroom areas. Their expansive interiors provide ample room for families or larger groups of travellers.

This TrailLite 758XL motorhome has room for six people to comfortably travel, sleep and relax.
Campervans


Campervans (often referred to as Campers), on the other hand, are smaller and more compact compared to motorhomes. They are typically based on a van chassis and offer a cozy living space that combines sleeping, dining, and basic kitchen facilities. Campervans are ideal for couples or small families seeking a nimble and maneuverable option.

If short trips and outdoor activities are the plan, there's a lot to be said for the simplicity of a campervan.
Amenities and Features
Motorhomes


Motorhomes tend to come equipped with a wide range of amenities and features. They often include fully-equipped kitchens, spacious bathrooms with showers, comfortable sleeping arrangements, ample storage space, and additional luxuries such as entertainment systems and air conditioning. Some larger motorhomes may even have slide-out sections to expand living areas.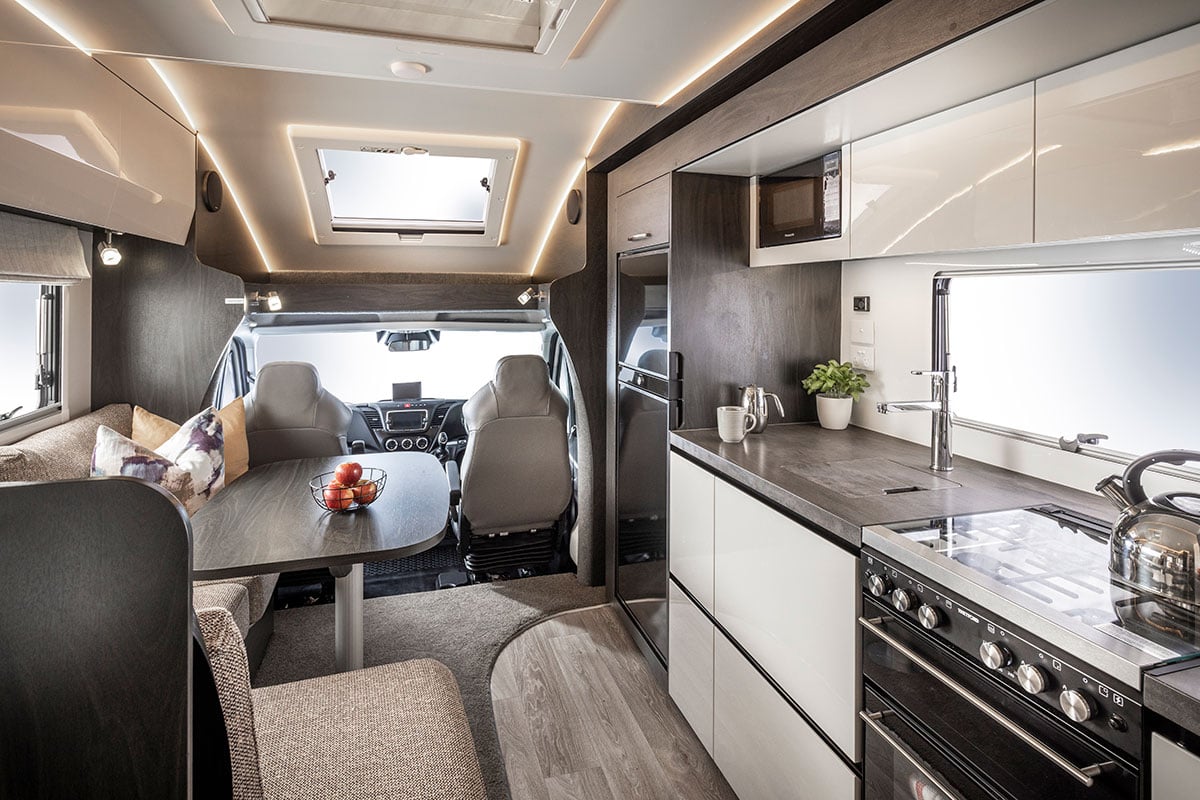 With a spacious kitchen and living area, there's room for all the family in a TrailLite-built motorhome
Campervans
Campervans offer basic amenities on a smaller scale. They typically have a compact kitchenette with a stove, refrigerator, sink, and a portable toilet or a smaller built-in bathroom. While they may lack the spaciousness of motorhomes, campervans are designed to provide essential comforts for shorter trips or minimalist adventurers.
Maneuverability verses comfort and space
Motorhomes


Due to their larger size, motorhomes require more space to maneuver and park. However, many motorhomes are spacious and laid out so well that they can comfortably be lived in for an extended time.
TrailLite Group has a large range of motorhomes that cater to a wide variety of requirements. Our own NZ-made TrailLite-built motorhomes and caravans are designed for NZ roads, with the capacity to go off-grid for longer. We also bring in great-brand motorhomes from abroad such as Benimar, Elddis, Mobilvetta, Fusion and Auto-Sleepers.
Campervans


Campervans (or Campers) compact size allows for easier navigation on narrow roads, city streets, and parking lots. Campervans drive more like regular vehicles, and are a good choice for travellers seeking flexibility and accessibility. They are not as easy to live in for a long amount of time, and generally the living area converts to a bed at night. However, for those not intending on spending much time in the vehicle, a Campervan may be the ideal choice.

Click here to view our Campervan range by Elddis
How about a compromise?
Smaller motorhomes, such as the Benimar Tessoro 481, Benimar Mileo 202, and the Elddis Accordo 120 are under 6 metres in length. They have the compact size and maneuverability of a camper, but with the great features and comforts that motorhomes can offer. So they're worth checking out!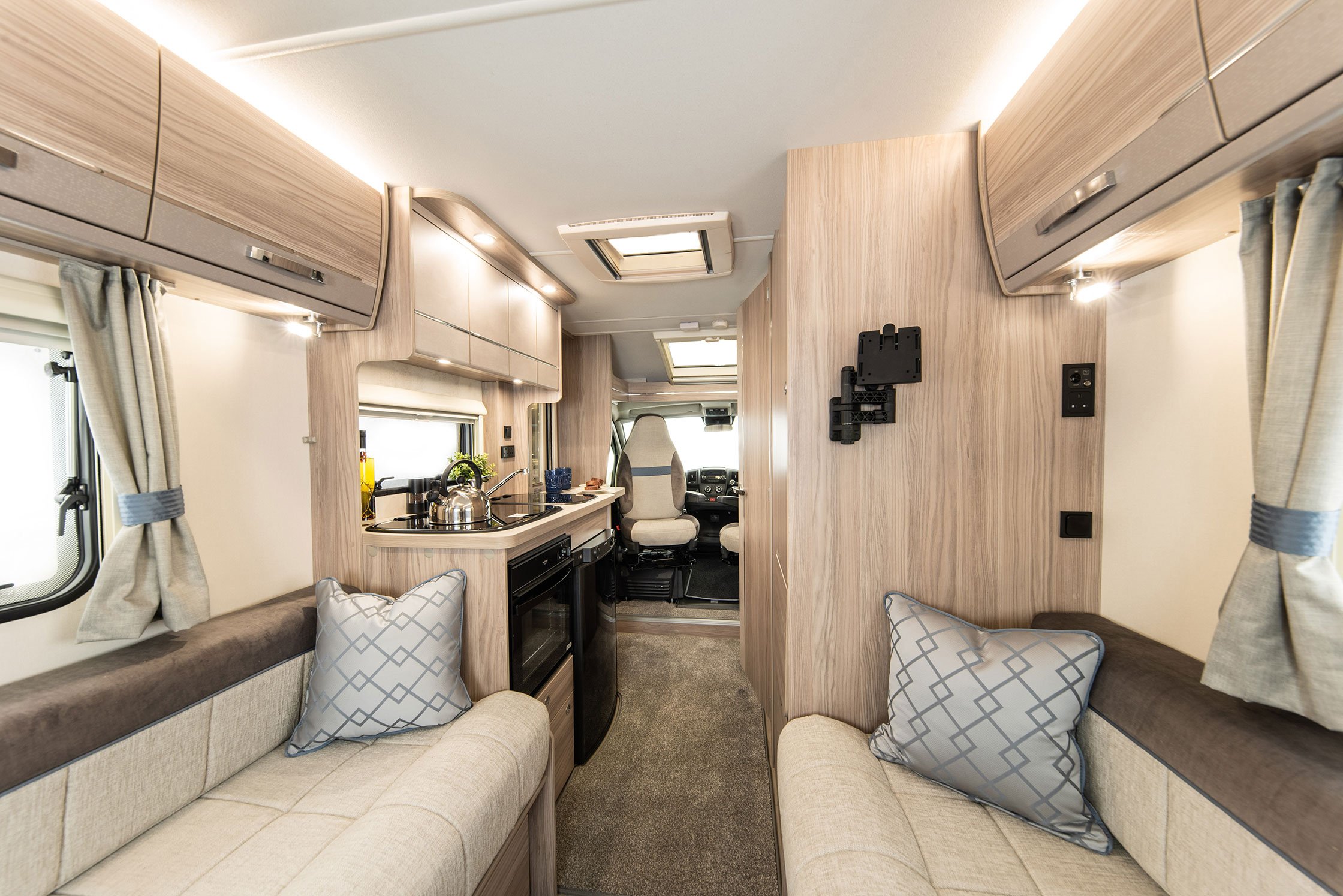 The Elddis Accordo 120 at under 6m could be a great compromise.
In summary, the main differences between motorhomes and campervans lie in size, amenities, and maneuverability. Motorhomes provide larger living spaces, more luxurious features, and enhanced stability on the road, making them suitable for extended trips and larger groups. Campervans, on the other hand, offer compact yet functional spaces, easy maneuverability, and a more intimate camping experience, making them ideal for shorter getaways and smaller parties. By considering these factors, you can make an informed decision based on your preferences and travel requirements.


Remember, whether you opt for a motorhome or a campervan, the most important aspect is to embark on an unforgettable adventure and create lasting memories along the way.
Happy Trails!