So you're thinking about motorhoming and you're trying to decide whether an awning is important? More than likely you haven't seen many motorhomes on the road without one. That's because they are pretty important especially in NZ where the sun is quite harsh and the rain can be relentless. BBQing on that slide out BBQ hubby wanted isn't much fun without some shelter!
As a motorhome is more than likely "on the go", the awning needs to be able to be wound out or in, easily & quickly. Most awnings on motorhomes tend to be the roll-out style, rather than ones you have to attach yourself. The biggest difference is the ability for them to handle wind.
That being said there are quite a few options when it comes to making a wise decision around what awning to select for your new motorhome:
Standard awning
To start with, a standard awning is more likely the Thule or Fiamma brands. Great awnings, but you need to treat them like an umbrella (never leave them unattended).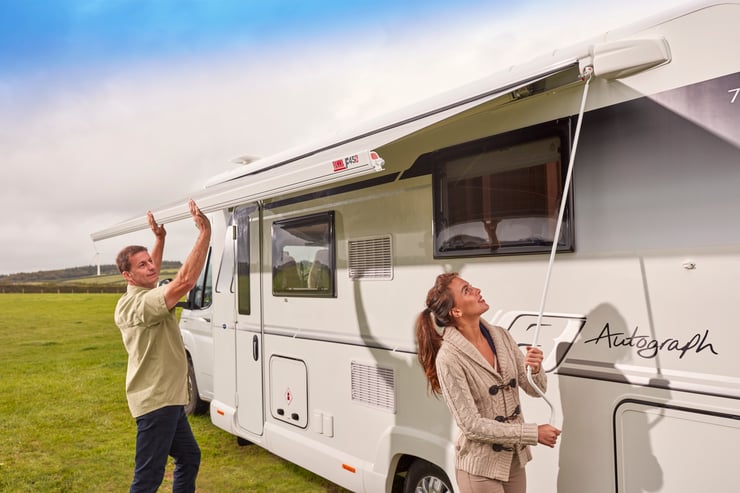 If the wind picks up, you either need to tether them down, or better still, wind them in. The last thing you need is to wake up in the middle of the night to find the wind has wrapped your awning across the top of your motorhome.
However they are a really great option and will serve you well when looking for shade or shelter while parked up and seated outside.
Upgraded awning
The next step is to upgrade to the likes of a Cvana or Shademaker, heavy duty awning.
Not as elegant looking, and they only have one position ( as opposed to the lightweight awnings that can vary their height wound out), but for want of a better phrase, they are idiot proof, which is probably why a lot of the rental companies have now opted to fit them.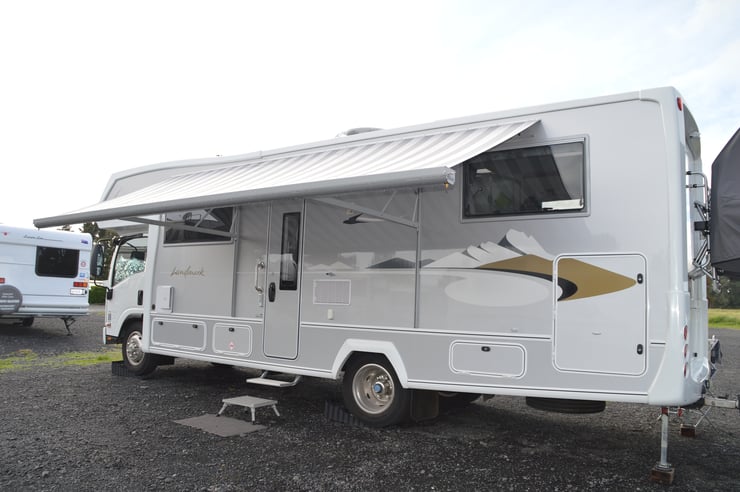 The other neat thing about this style is that the reel body also acts as spouting, meaning you can get a hose fitting, allowing you to harvest the rain…….. brilliant!
This type of fitting would be great for full-time livers or people who are out there exploring in their motorhome.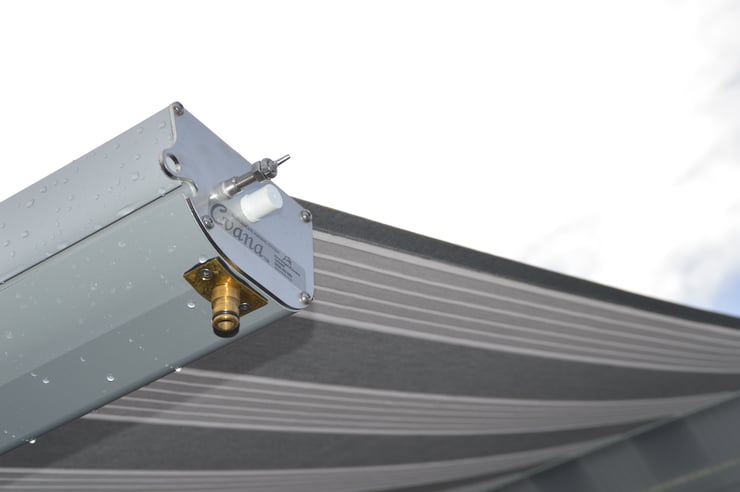 Not all motorhomes come standard with an awning so be sure to check the specification and find out what the costs are for adding one at the time of sale. When deciding if adding an awning is worth the additional cost (some motorhomes do come standard with awnings- TrailLite, Bailey Motorhome) consider how you intend on using the motorhome. Will you be sitting outside in the summer? Are you outdoors people? How big is the motorhome? If it's small the extra shaded space could really come in handy for creating a separate space.