Building a new motorhome is a lot like building a house, but do it right and it can be a fun, enjoyable and stress free process. One without the hassle of council consents, backyard builders and budget blow out!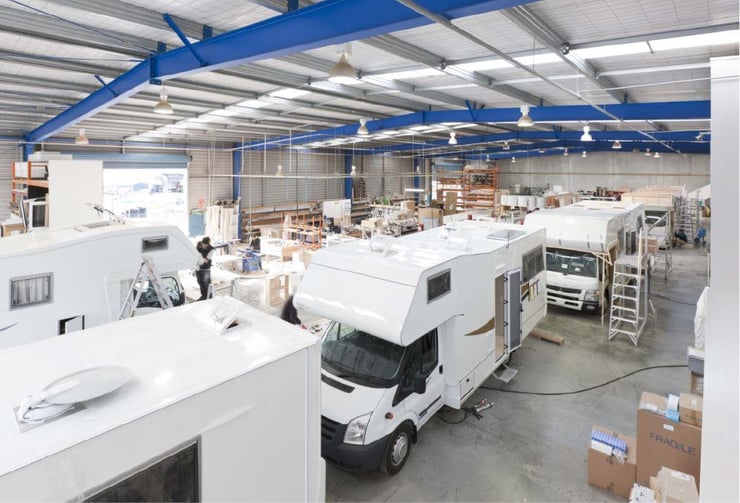 Read on to learn not only of the benefits but what to expect of the process and timeframe.
The Benefits
Doing a new build on a motorhome can be a really good idea to ensure you get a motorhome that suits your needs including the extra optional upgrades, interior colour scheme and much more. Some of the benefits include:
Getting to choose the right base vehicle
Selecting the best floor plan
Adding the right features to reflect your personality and lifestyle
Getting a good quality NZ built motorhome with premium fittings and fixtures
The time and effort ensures that the motorhome is perfect for your needs
Building and working with a product specialist during the build process ensures that everything is considered and no base is left uncovered so when you pick up your motorhome, you know it's perfect for you!
Building a motorhome

Building a motorhome isn't a pick up and drive option. If you have a short timeline and you want to be on the road immediately a build might not be right for you.
In reality the adventure should start at least 1 year prior to getting on the road. Many customers might be looking to put a house on the market or waiting for retirement in a years time. When building, it's important to secure your slot early then do your research as to what floor plan and specification suits you knowing that you've secured something within your timeline.
Many people become dissapointed when they discover that when they're ready their dream motorhome might not be. Unfortunately we've seen it before, where when faced with this situation, people rush out after selling the house or similar and purchase the first available motor
home. At times regardless of the fact that some of the motorhomes key features are never going to be suitable.
There is always only a limited number of builds per year. To be able to access one of the limited numbers; the time to secure your build is generally a year prior . This way you get your Motorhome in the month you want to start your adventure, and you secure current pricing.
Booking early also gives you have 10 months where you can network with other owners, start researching the sundry items that will make life on the road even more enjoyable and start planning a schedule of possible destinations. All while enjoying the build process!
Steps in the build process
Start by deciding what company you want to build with:

Do this by speaking to people
Asking for testimonials
Finding out what can be expected from each company in regards to the build experience
Take some time to visit potential factories
After the above you will soon get a feel for the brands with the expertise, knowledge and experience as well as those with the best reputation.
Get clear on your non negotiable's:

These are best established with a trusted advisor. Someone who will challenge you on where you are going? Who are you going with? What you are wanting to achieve?
When your non negotiable's are clearly identified you then can start looking at possible base vehicles , floor plans and features that are correctly aligned with your dream and vision.
Secure a build date determined by when you see yourself being on the road

Are you wanting to be out exploring in time for next summer? A friend or daughters wedding? Are you putting a house on the market next spring?
Think closely about your timing upfront in the research process to ensure you get the right motorhome for you and the right time.
Once you've secured a build slot a good product consultant will start you thinking about what upgrades or extras might be suitable for your dream.

Some upgrades may be best added at time of build while others may be able to be retro fitted. Retro fitting gives you the opportunity to experience the motorhome before making final choices.

A $10,000.00 deposit secures your pricing as well as an estimated goal completion date.
TrailLite's Build Process
Once you have secured your build slot with a $5000 deposit we will work very closely with you to finalise the details of your lifestyle dream and thus what motorhome is going to suit that vision.
We'll connect you with our very own in house interior designer, when colour consultation and custom interior is a priority. At this meeting you'll determine what colour scheme is going to work for you in your new motorhome alongside a professional interior designer. This is always an exciting and enjoyable day for everyone involved. When building Landmark we'll send you away with a specially created colour board complete with the choices you've made.
The actual build time for a TrailLite Motorhome is approximately 8 weeks.
Your plan will need to be finalized and at our onsite factory team 14 weeks prior to the estimated completion date. This represents 6 weeks before your cab chassis arrives and the time that everything will be ordered, designed and built ready for your motorhome start date.
Ahead of this time there will be a number of consultations and meetings with your product consultant to confirm and finalise your optional upgrades, selected off a comprehensive list of available extras.
When the cab chassis arrives into the factory a progress payment of 30% of the total build is due and the exciting process of a handcrafted Motorhome begins.
This is a great opportunity to come and see your build evolve, meet the craftsmen and women who take great pride in making your dream a reality and see the attention to detail and quality each step of the way.
2 weeks prior to completion, we set your handover date , which involves a full day of learning and exploring your new Motorhome.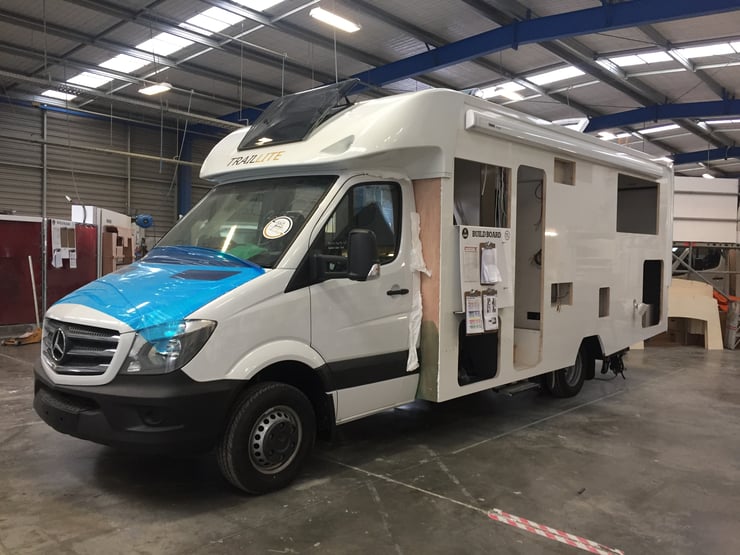 On handover day you can expect a detailed day enjoying learning about your new motorhome and with TrailLite this is where the journey really just begins!
Customer service is in our values and at the core of who we are as a company. We are committed to being apart of your journey not just from the day the deposit was received but right through the entire time you enjoy your on road adventure (and in many cases for a long time after that again).
"And now we are out there, we have made our dream a reality and we took a wonderful journey to get us to where we really wanted to be"