Is the Benimar Tessoro 481 really a four-person motorhome?
We market it as a four-person motorhome, so what better way to truly understand its potential than by trying out that very premise...
Even though only a few, if any, of our customers will head away as 3-4 adults together for 2 weeks in one motorhome, it is still good to try out different ways of using these brands. Plus, living the lifestyle is a great way to understand the pros and cons of each product.
The story goes like this. My husband and my best friend decided to make a road trip over Christmas from Auckland to the top of the North Island and somewhat everywhere in between. We're all surfers, so 3 surfboards, 3 wetsuits, and some snorkelling/diving gear were mandatory. We were lucky to use the Benimar Tessoro 481, a 5.99m drop-down bed model. If anything was going to bring out the pros and cons of a motorhome of this size, that type of trip certainly would do it!
We started leaving Auckland and heading North to Whangerei for Christmas with my family. We'd spent a fair bit of time packing and organising, only taking what we needed and ensuring that everything had a suitable place. We were each allocated one small Sistema-style container for our clothes, stacked on top of each other in the motorhome wardrobe. The internal storage is pretty good in this model because the space above the cab acts as an area for books, pillows, etc., and your wardrobe is a decent size and easily accessible for clothes or other items. An excellent tip for people wanting to maximise space and make sure everything stays well organised and accessible is to use Sistema containers- make sure they aren't too big with empty space in them.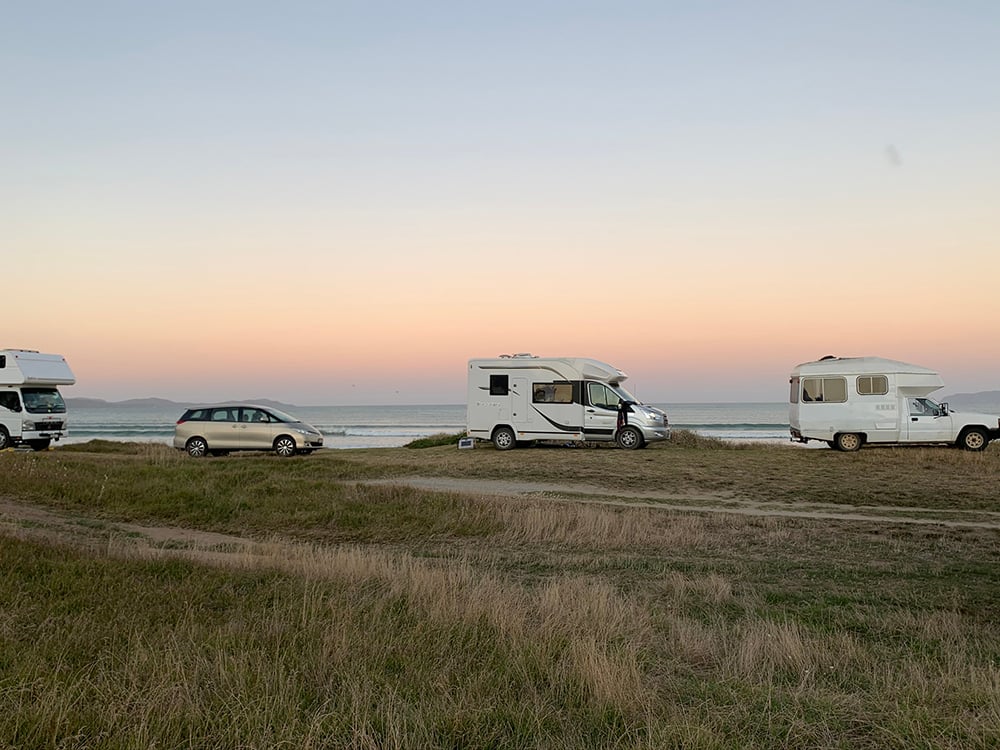 Our surfboards were stored in two bags, and because they were reasonably small, they fitted nicely under the table when we were driving, and then when we were stopped, they went under the motorhome. Not ideal for potential theft (which never happened). It impacted the available space inside the motorhome, but that was only an issue while we were driving, which, of course, we were all seated anyway.
The outside storage department in the Tessoro 481 is relatively small and skinny and houses the spare tyre. We decided to get a puncture repair kit and have the number of the insurance company for roadside assistance on hand, meaning we could take the spare tyre out. I'd had to change a tyre on an 8m motorhome before, while driving through Arthurs Pass (between Christchurch and Greymouth), which was challenging. It is much better to seek help in these circumstances, so with that in mind, the spare tyre went, and we had more space for toys. I know many international motorhome models don't come with a spare tyre, so it's certainly something to look out for when considering purchasing and something to keep in mind when looking for a small motorhome. Space is at a premium, so being mindful about what goes where is an important consideration. Compromise is key.
After a few adjustments and laughs, we were loaded up and ready to set off.
We spent Christmas day with my family at Titoki and then headed west to Kai Iwi lakes and enjoyed the beautiful scenery, sunshine and warm water.
There are a few options for staying at Kai Iwi lakes, including an NZMCA POP, and I would 100% recommend putting this on your must-visit list. I spent a long weekend here another time in the campground and had a blast. It's relatively remote with limited services, so it's a great option for at least a few nights! Check out Kai iwi Lakes campsites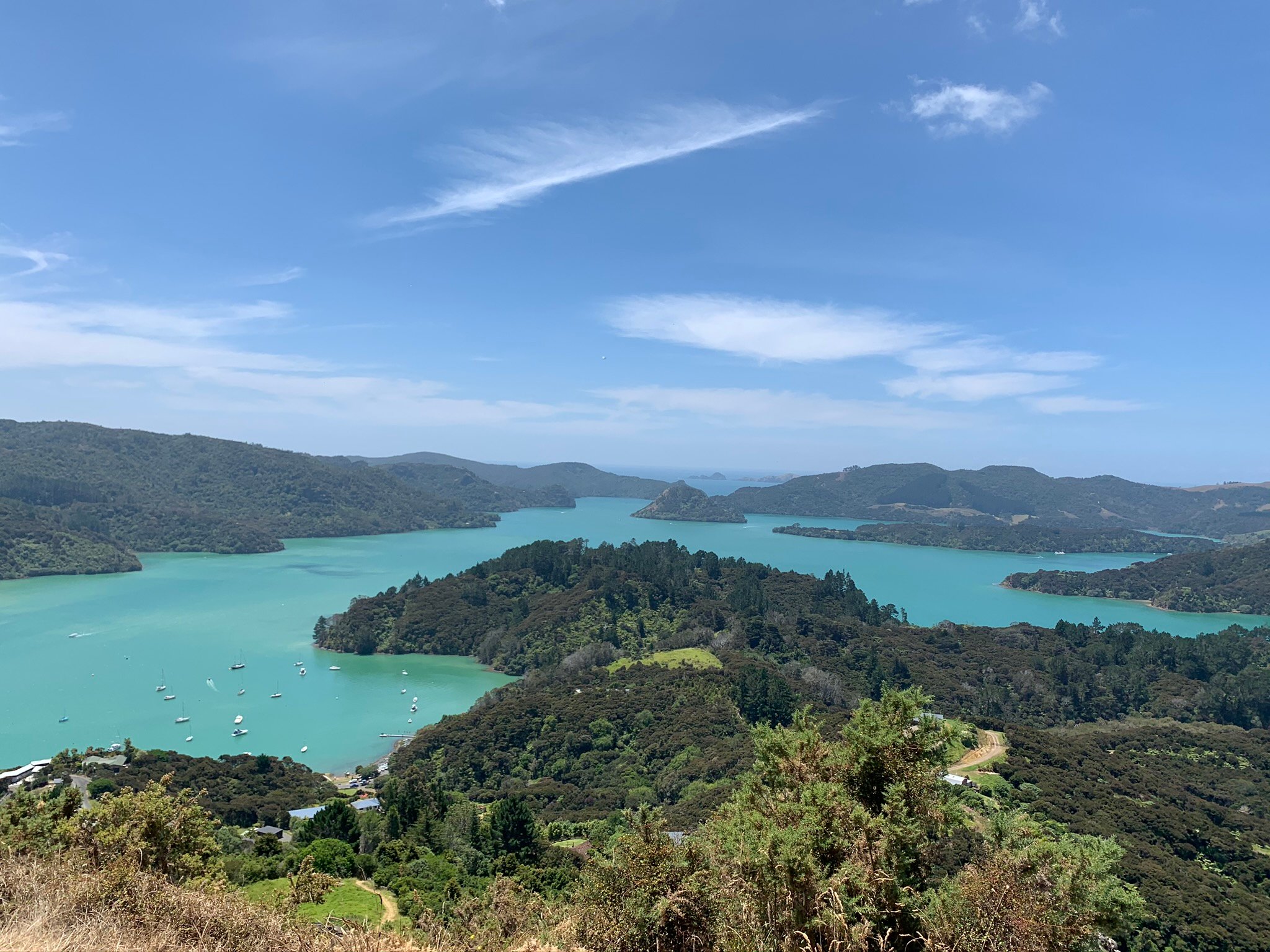 From there, we headed north through the Waipoua forest and stopped in to view Tane Mahuta, The largest Kauri tree in the world. Find out about Tane Mahuta
We followed the west coast up and stayed overnight at a beautiful spot in Opononi. There was a reserve off Koutu Point Road, bordering the Hokianga Harbour where you could stay overnight for a nominal fee.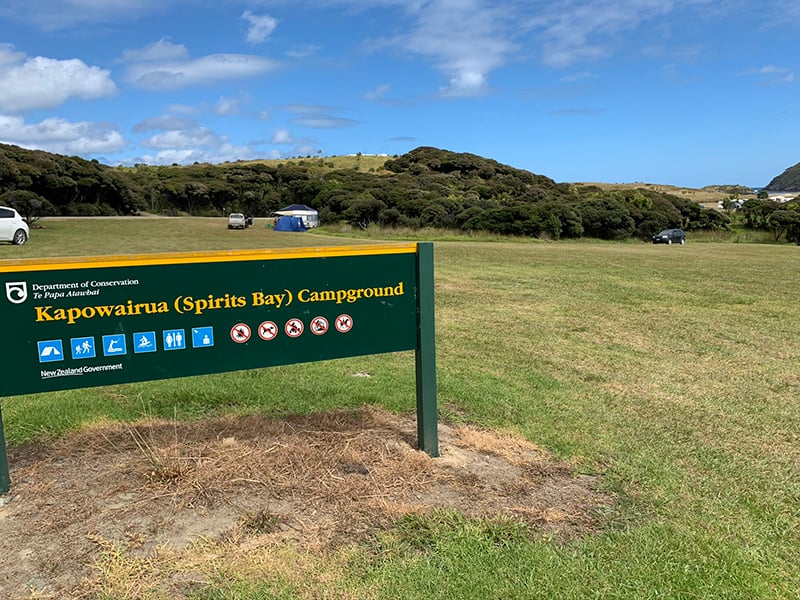 From there, we continued on to cross the harbour at Rawene. Rawene was a cool town and worth a walk around while you waited for the ferry. Ahipara is beautiful, and the long white sandy beaches are stunning and a great place to stop for lunch. Of course, walking to the top of Cape Reinga lighthouse and enjoying the tip of NZ is essential!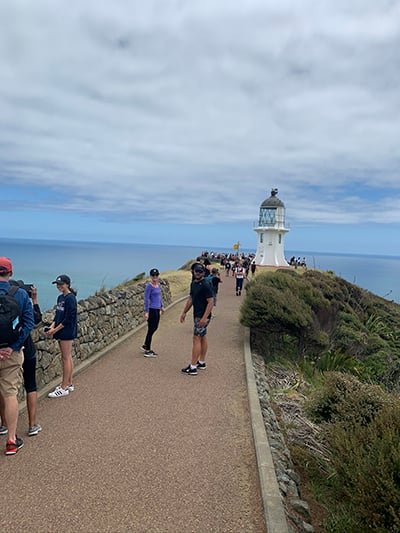 We stayed at Spirits Bay which is beautiful, and the DOC campsite is near the beach with great walking tracks all around. Depending on your enthusiasm, you can follow the Te Paki Coast Track all the way to Cape from here.
Be aware at Spirits Bay, we got absolutely destroyed by sandflies!!! The worst ever! That's pretty well known, but we were all awake all night fighting sandflies inside the motorhome because we hadn't adequately prepared for how bad they were…. DON'T LEAVE THE DOOR OPEN! And take plenty of sandfly repellent.
Tokerau Beach is another magic spot with freedom camping right on the beach. The beach is massive, there are fun little waves for surfing or body boarding, and you can walk along the coast for ages and enjoy the quiet nature! I would definitely go back there and spend a week or so.
There are many options for stopping along the way from Whangārei to Auckland too! A crowd favourite – or campsite I hear people love a lot is Doc Site Uretiti. However, I'm yet to stop there. Would love to hear what your favourite spot is in the Northland region of NZ?
Summary of our trip:
Oponoi

Rawene

Ahipara

Houhora

Cape Regina

Top of the North Island

Spirits Bay

Tokerau Beach

Mangonui

Wangaroroa Harbour

Taupo Bay

Sandy Bay

Home (Plenty of places to stop between Whangārei and Auckland depending on time)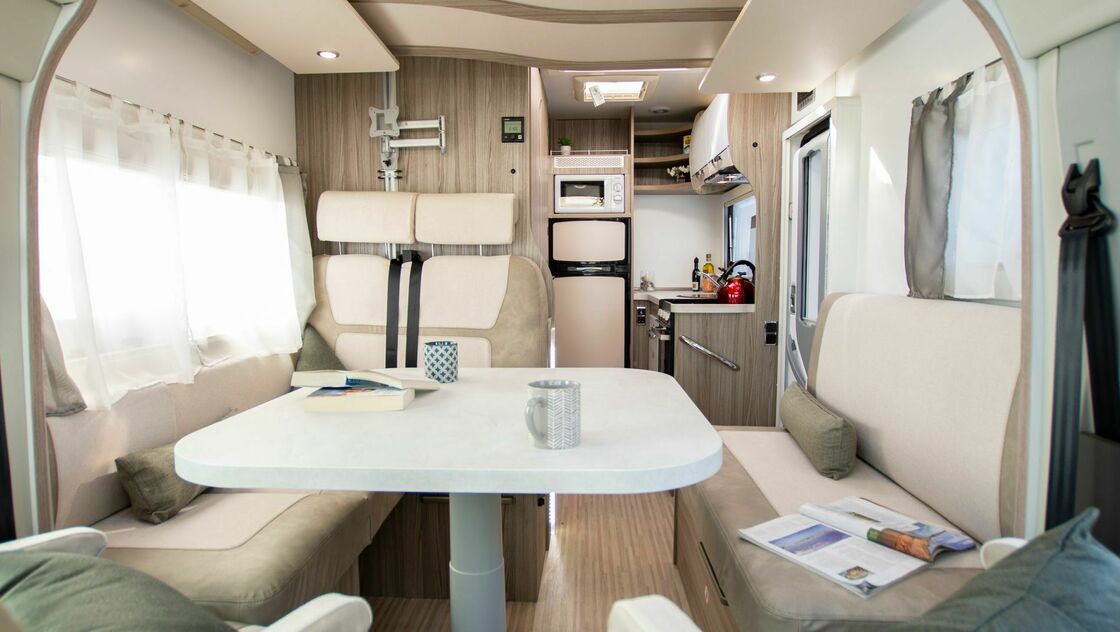 A few things to note about the motorhome and our sleeping arrangements … to clear anything up 😊. Firstly, the drop-down bed and the lounge seating area convert to double bunk beds. The bottom (lounge seating) is a reasonably-sized bed, but you must store the linen/pillows during the day. The drop-down table's key function makes inserting most of the bed base into place really simple. You literally just turn the key, and the table automatically drops into place. My friend slept on the lounge bedding. She is a bit claustrophobic but felt there was plenty of room to sit up, and the beauty of the drop-down bed is you can adjust it to any height required. If you had a grandchild traveling with you, you could pop them up top and give them less space to allow for more room below to sit up and read or the like. You do have to be reasonably limber to get in and out of the top bed when it's up relatively high, and while there is a ladder, it compromises a bit of access for the person getting in and out of the bottom bunk when left up.
The full-sized fridge, kitchen, and bench space make this small motorhome super functional, even for three adults!! A big plus is the shower and bathroom area, which is reasonable for a small motorhome, so changes can be done easily in a separate room. We did take a BBQ, and while we didn't have an awning, it would make the motorhome feel even more sizeable, even more so if you had one with sides.
Pros:
Small motorhome but functional spaces

The kitchen is bigger than some of those in larger motorhomes

The lounge was big enough for us all to read/ lounge about because the main bed was up and out of the way during the day

Lounge and drop-down bed work really well as two double beds.

The two rear forward-facing travel seats are comfortable and well-positioned to converse with those in the driving seats. I even sat back with my mate for one of the legs and sang road trip songs!!

They drive super well – the Ford Transit was easy to drive and nippy
Cons:
Storage – you have to be super mindful of where you put things, but for a small motorhome, I think the storage is actually a pro

Some might say taking the tyre out to increase storage wasn't great.

Payload – You do have to be mindful of payload. We are all relatively light people, so our weight wouldn't have taken up much. But when buying these smaller motorhomes, you must understand your weight obligations. We also didn't have an awning or any extras on this model. Remember that anything you add (bike rack, awning, extra battery, tyre) comes from your payload or gets added to your weight.
While we always encourage you to go as large (length-wise) as you can to optimise space and comfort, this short floorplan is a great option for people wanting something small, but that doesn't feel like a compromise. If you live in a retirement village or your parking space is limited, check out the Benimar Mileo or Tessoro range.
The Benimar Tessoro 481 is on a Ford Transit chassis, but if you prefer a Fiat Ducato, the Benimar Mileo 202 is the exact same size and layout. Their sister versions have the same premise, as a large lounge and kitchen with the main bed as a drop-down (out of the way during the day) to optimise living space but are a bit longer. The 487/483/486 or, on the fiat engine, the 286 are all worth checking out.