New Zealand is one of the few places in the world where self-contained freedom camping is so accessible, well regarded and easy. But that isn't to say freedom camping is your only option when touring the country in a motorhome. There are many different options to stop, park up and spend the night or a few...
So what are they? Where can you camp in a motorhome? It may seem like a simple question with a simple answer but when you're enjoying the freedom of motorhoming in a country as amazing as New Zealand your options really are quite endless.
Campsites
Lets start with the obvious. Campsites are great for people looking to plug in, charge devices, grab a more spacious shower (especially for those who have combined bathrooms) and meet other like minded people. There is literally thousands of campsites around the country that are well appointed, in excellent scenic locations and are usually quite spacious. Depending on how well equipped your motorhome is you may choose a non-powered site which are typically slightly more affordable.
Campsites are usually a great place for families travelling by motorhome. The kids can run around, meet other kids, play in the dedicated play areas and come together over a BBQ in the evening.
Campsites sound great right! Absolutely and they certainly suit some types of travelers more than others. Keep in mind that certain motorhomes, depending on specification (battery capacity, water capacity) are going to be much more suited to campsite motorhoming than others. For some holiday parks can be a more expensive way to travel with some costing upwards of $50 per night even as much as $100 per night for a parking spot.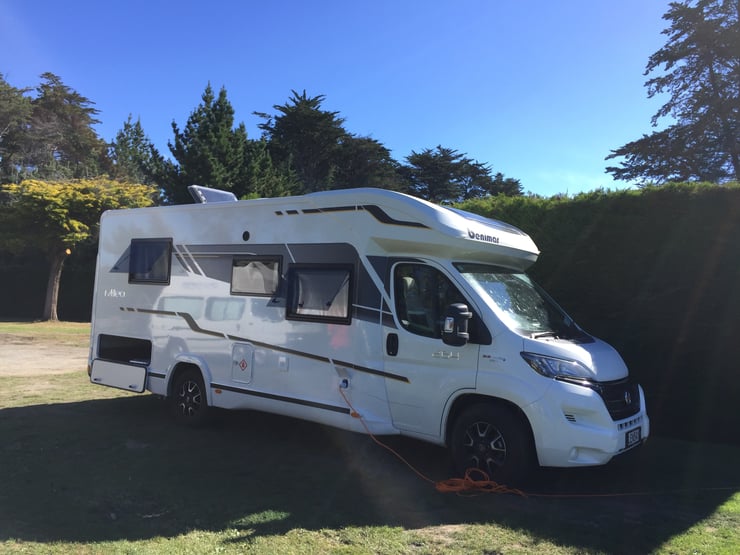 Responsible self-contained camping
Freedom camping certainly doesn't mean roughing it! But rather means motorhoming in amazing locations in a motorhome that is well equipped to do so. You'll need everything on board to accomodate yourself and your passangers practicing a leave nothing but footprints mentality. You'll also most importantly need the required self-containment certification which ensures your motorhome complies with the requirements. Once that is all sorted you're free to go, explore, park up and enjoy. There is over 500 freedom camping locations in New Zealand some of them amongst the most scenic and popular destinations. Your view could be the surf breaks of the New Plymouth Surf Coast Highway one day and the mountains on Mt Ruapehu the next.
There is some great magical scenic spots dotted all through the country and they are usually relatively quiet, not over crowded and free. There are also great practical spots that break up long drives and are easy and convenient to pull in, park up and cook a meal before continuing your drive the nest day. Like parking at the Waiouru Army Musem carpark, A great spot to stop on a trek from Auckland to Wellington.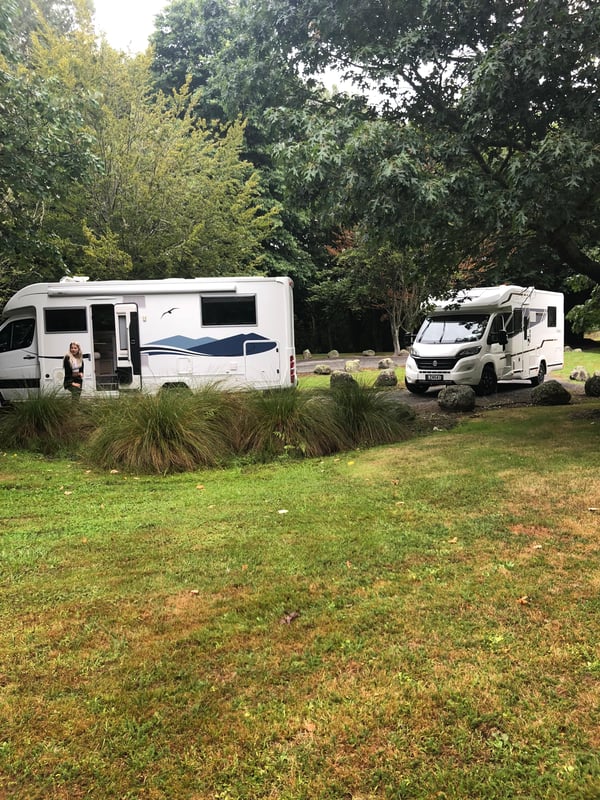 The best thing to do is to download the campermate app to ensure that you are stopping in the right places and what the rules are for that particular location. Different places may have restrictions on the number of consecutive nights you can stay so it pays to check.
There are also some hand signs to look out for to ensure you're complying with the rules while freedom camping. Check them out below.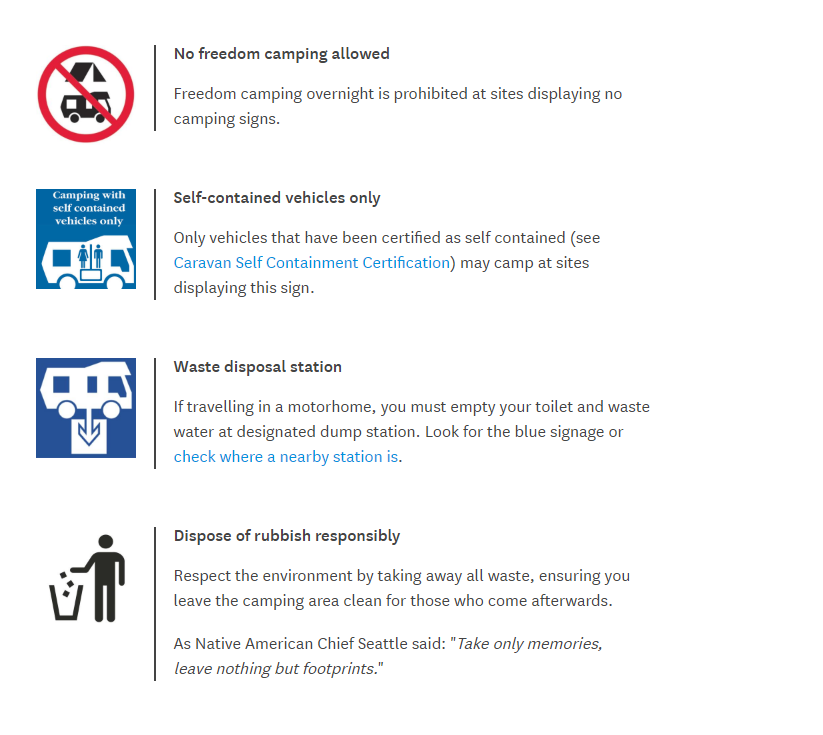 NZMCA Park Over Property
Since 1991 the NZMCA has been building up a list of park over properties for there members to enjoy at minimal or no cost. They have over 2000 parking sites available to their members, while these do include public sites, they have a large number of spots reserved specifically for NZMCA members including business premises and residential sites.
The NZMCA is constantly acquiring new locations into the POP scheme and have them doted all throughout the country. If you're not a member of the association it does pay to join they bring out a travel directory every two years that covers all the spots you can stop and becomes a motorhomers bible! They also have a handy travel app which will ensure you can find the best and most up to date spots as you travel.
DOC Campsites
Throughout New Zealand the department of conservation have over 250 vehicle accessible campsites on public conservation land. Most are on a first come first serve basis while the serviced campsites can be booked in advanced. With the first in first served model payment is made through self-registration and the fees are usually around $5-$15pp. You'll need to put your money in an honesty box and display the ticket you get when doing so on the dashboard of your motorhome. Make sure you remember to take cash!
A simple search on the DOC website brings up 169 beautiful locations all through New Zealand with basic, standard and scenic categories. They also note any current alerts which is good especially given the storms we've experienced lately in some of the motorhome hot spots so this can help keep you up to date about closures.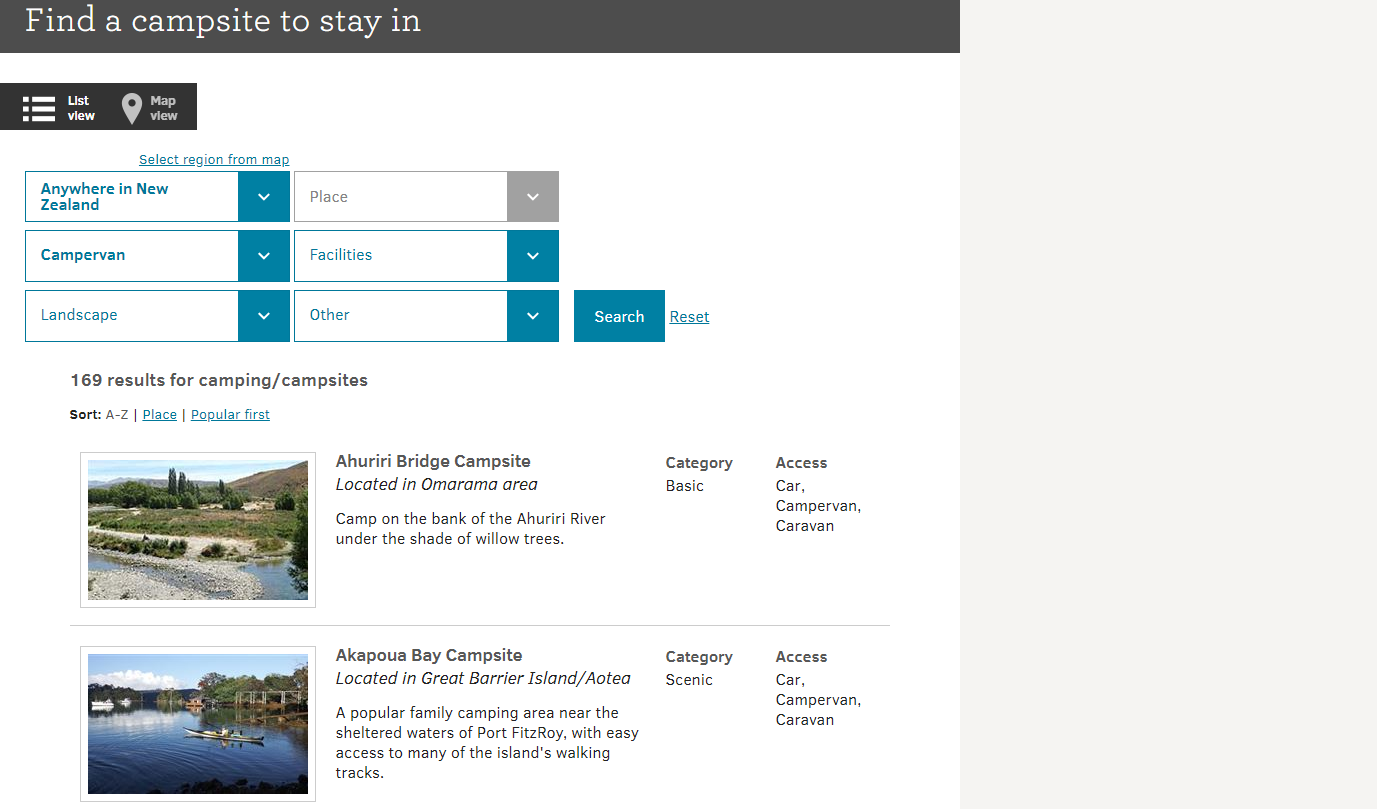 With Friends and Family
A lot of motorhomers love calling in to visit kids and grandkids while maintaining their own privacy and enjoying their own space. The grandkids might want to camp out in the motorhome for the night or you could enjoy a home cooked meal around the dining room with your friends and family. Most people enjoy a motorhomers visit as you don't have to prepare a room or stock the fridge or change the sheets- they bring everything they need with them and take everything away! What better types of guests could there be?
Restaurants or pub car parks
A good idea if you feel like a pub meal or some socializing is to call into the local famous restaurant or pub and chat with the manager about parking up overnight most places with a private carpark have no problems accommodating self-contained motorhomes when your a paying customer. Plus when you are ready to go home it's not far to walk!
There are so many options to stop, camp and hang out in New Zealand it's not hard to see why so many people of all ages and demographics are turning to motorhoming as a way to adventure and explore our amazing country.